It is the philosophy of the School of Nursing at the University of Texas at Austin that the advancement of the nursing profession depends on preparing students for excellence and leadership in nursing and society. To prepare students for our unique, diverse, complex, and changing world, it is especially important to do so by promoting and advancing diversity and inclusion. The faculty and the staff at the School of Nursing embrace diversity and inclusion, and it is vital that all faculty, staff, students, and visitors feel comfortable and included within the School of Nursing's environment. Our Diversity, Equity and Inclusion Committee is working to facilitate/monitor/ensure a diverse, inclusive, welcoming culture at the School of Nursing. The Committee's definitions of diversity, inclusion, and equity are adopted from the American Association of Colleges of Nursing (2016):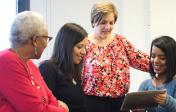 Diversity
Diversity references a broad range of individual, population, and social characteristics, including but not limited to age; sex; race; ethnicity; sexual orientation; gender identity; family structure; geographic locations; national origin; immigrants and refugees; language; physical, functional, and learning abilities; religious beliefs; and socioeconomic status (AACN Position Statement, 2016).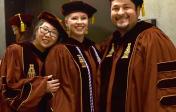 Equity
Equity is the ability to recognize the differences in the resources or knowledge needed to allow individuals to fully participate in society, including access to higher education, with the goal of overcoming obstacles to ensure fairness. To have equitable systems, all people should be treated fairly, unhampered by artificial barriers, stereotypes or prejudices (AACN Position Statement, 2016).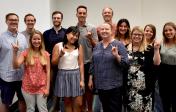 Inclusion
Inclusion represents environmental and organizational cultures in which faculty, students, staff and administrators with diverse characteristics thrive. Inclusive environments require intentionality and embrace differences, not merely tolerate them. Everyone works to ensure the perspectives and experiences of others are invited, welcomed, acknowledged, and respected (AACN Position Statement, 2016).
Research affirms that the feeling of not belonging and/or the experience of discrimination leads to poor health. In particular, racial bias can result in significant health disparities. Therefore, the Diversity, Equity and Inclusion Committee is committed to creating a welcoming environment within the SoN. We aim to educate students, faculty, and staff about the need to recognize, discuss, and find ways to eliminate any bias not only within the school but throughout our healthcare systems. We encourage you to join us in creating healthier communities in which to live and work.
The Diversity, Equity and Inclusion Committee at the SON is working to ensure that everyone knows,

YOU BELONG HERE