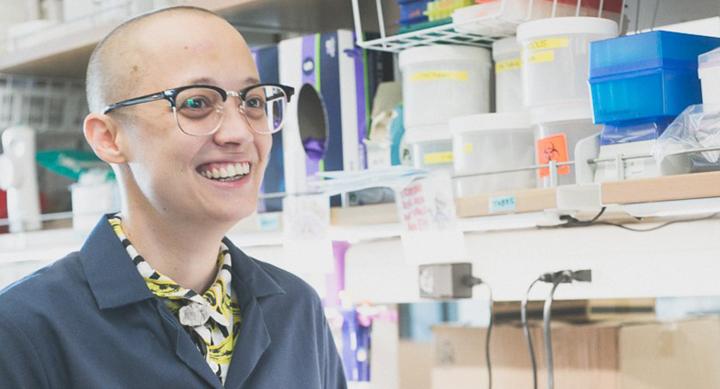 Overview
The School of Nursing's BioBehavioral Lab has state-of-the-art equipment to do many kinds of testing: immunological, endocrine, as well as genetics. The Lab first opened in October 2011, moved to the Health Discoveries Building in 2017.
---
Goals of the BioBehavioral Lab
Consistent with the National Institutes of Health's Roadmap, the BioBehavioral Lab supports initiatives for interdisciplinary research, and linking bench scientists and clinicians to work together to improve the health of underserved populations.
Goals of the BioBehavioral Lab are to:
Provide education and training opportunities in biobehavioral research for undergraduate and graduate nursing students, as well as students in other disciplines.
Consult with faculty who are extending their research programs to incorporate biological measures.
Collaborate with interdisciplinary research teams that study the intersection of biological, behavioral, emotional, and social issues.
Increase biobehavioral research activity within the School of Nursing and across disciplines at The University of Texas at Austin.
---
Laboratory Description
The University of Texas at Austin School of Nursing's BioBehavioral Lab is classified as a Biosafety Level 2 facility. Support equipment includes microcentrofuges, ultra- and refrigerated centrifuges, chemical fume hoods, and updated computer software support. Sample storage in a controlled environment is accomplished by -20°C and -80°C freezers and 4°refrigerators. Long-term secure storage of biological samples is achieved using a locked and monitored CryoCube freezer connected to the network.
Major equipment includes:
SMCxPRO (MilliporeSigma) for ultrasensitive (femtomolar-level) protein quantification​

***The BioBehavioral Lab is one of only a few in the nation with this technology***
BioPlex200 (Luminex) for multiplex analysis of proteins, DNA, and RNA
Sorvall Legend XTR Centrifuge for temperature-controlled sample and reagent processing
CFX-96 (Biorad) RT-PCR system for analysis of gene expression
CryCube (Eppendorf) freezer for secure storage of biological samples at -80°C