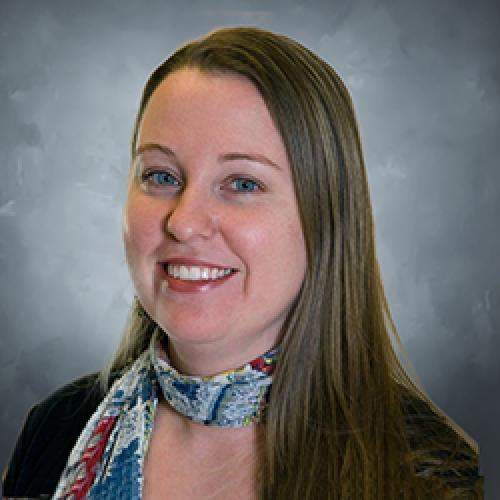 PhD, APRN, PMHCNS-BC, PMHNP-BC

Clinical Associate Professor
Areas
Advanced Practice;
Mental Health;
Nursing Research
Expertise
Chronic Disease/Disability
Clinical Nurse Specialist
Gerontology/Aging
Interprofessional Health
Mental Health Nursing Practice
Biography
Dr. Donna Rolin is a Clinical Associate Professor and the Director of the Psychiatric Mental Health Nurse Practitioner program at The University of Texas at Austin School of Nursing. She received her PhD in Nursing Research from New York University, MSN in Psychiatric Nursing from the University of Pennsylvania, and BSN from Wichita State University. Her research focuses on community psychiatry and substance use disorders. She is active in the American Psychiatric Nurses Association, where she serves on the national Board of Directors in the role of Treasurer, and locally in the Psychiatric Advanced Practice Nurses of Austin organization in the role of VP, and is a member of the Board of Directors of the Austin Child Guidance Center.
Her clinical background, as a Psychiatric Advanced Practice Registered Nurse, encompasses cognitive behavioral, group, and family psychotherapies as well as psychiatric evaluation and pharmacotherapy for persons with mental illness and cognitive disorders in inpatient, outpatient, community and forensic settings. Currently, she practices in a community-based group working with underserved patients with serious mental illnesses, cognitive disorders, and intellectual disabilities in outpatient, long term care, and inpatient psychiatric facilities. She consults with the American Psychiatric Association on an educational collaborative related to serious mental illness.
Her clinical and educational work regarding Substance Use Disorders began in 1998, when she was the Charge Nurse of the Dual Diagnosis Forensic Intensive Residential Program at North Philadelphia Health System until 2000, when she left for University of Pennsylvania for graduate school, earning MSN in Psychiatric Nursing in 2002. As a Research Interventionist and faculty member at the University of Pennsylvania School of Nursing, she provided a medication adherence in-home intervention based on Cognitive Behavioral Therapy to persons with serious mental illness and HIV. From 2008-2009, during her PhD education at New York University, she completed the Substance Abuse Research Education and Training (SARET) Fellowship supported by the National Institute of Drug Abuse R25 Grant. This included a Residency at New York University School of Medicine Behavioral Science and Substance Abuse Research Group and the Bellevue Hospital Division of Alcoholism and Drug Abuse. Association for Medical Education and Research in Substance Abuse (AMERSA) awarded her a scholarship in 2010. Her 2012 dissertation at New York University was a qualitative, phenomenological exploration of "The Lived Experience of Spirituality in Alcoholism Recovery."
Since coming to The University of Texas at Austin School of Nursing in 2012, she has collaborated with the School of Social Work in developing and presenting seminars on "Diagnostic and Statistical Manual of Mental Disorders-5 (DSM-5) Updates and Clinical Implications: Substance-Related and Addictive Disorders." She has co-authored two articles on the DSM-5 changes and held numerous DSM-5 presentations regionally. Dr. Rolin also worked in collaboration with the School of Social Work, School of Medicine, and Refugee Services of Texas in providing services to the volunteer Hope Through Health Medical Home Clinic for Refugee Survivors of Trafficking and Domestic Violence from 2013-2015. Here she oversaw numerous Psychiatric Mental Health Nurse Practitioner Interns provide bilingual, culturally sensitive holistic mental health care to patients and their families, including individual counseling, play therapy, group psycho-education, psychiatric evaluation, and psychotropic medication consultation. Dr. Rolin became Nursing Co-Director of the Institute on Domestic Violence and Sexual Assault (IDVSA) in 2017. She participated in a university-wide Pop-Up Institute: Towards Solving the Problem of Substance Misuse and Addiction among Youth and Emerging Adults. She collaborates with UT Schools of Medicine / Psychiatry, Psychology, Social Work, and Pharmacy through inter-disciplinary training grants, which expand integrated and addiction clinical training for graduate mental health students.
Dr. Rolin's recent national and regional professional conference presentations focus on topics such as psychopharmacology including utilization of clozapine and long-acting injectable antipsychotic medications, standardized psychiatric evaluation and measurement-based care, and promotion of psychotherapy in advanced practice nursing. She and colleagues launched several wellness intervention research studies aimed to improve mental health outcomes such as depression, anxiety, disability, sleep, emotional eating, and wellness in various populations and settings.
Contact Information
Email Address:
Phone: