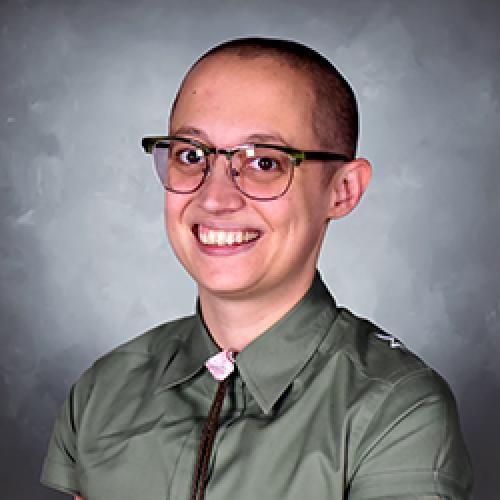 PhD, BSN, BS, RN

Clinical Assistant Professor
Areas
Adult Health;
Mental Health;
Nursing Research
Expertise
Acute Care
Curriculum & Instruction
Ethics
Genetics
Background and Research
Dr. Osier (They/Them) is a Clinical Assistant Professor in the School of Nursing (Division of Holistic Adult Health). 
Dr. Osier's training background includes dual bachelor's degrees from Michigan State University (in Nutritional Science and Nursing), a PhD from the University of Pittsburgh (in Nursing with an emphasis on Molecular Genomics), and a postdoctoral fellowship at the National Institutes of Health (in Nursing with an emphasis on Protein Quantification). Formerly, Dr. Osier's program of research has centered on using both pre-clinical and clinical research to promote understanding for the molecular and genomic underpinnings of health, disease, and injury recovery. Their scholarship now focuses on developing and evaluating educational and mentorship programs. They are passionate about teaching undergraduate students transferable hard and soft skills and especially enjoy teaching students how to publish in scholarly journals and present at conferences. 
Outreach
In addition to their research, Dr. Osier is very passionate about teaching and mentoring the next generation of registered nurses and nurse scientists. They currently teach 3 classes in the School of Nursing, namely: Genetics in Healthcare, Ethics of Healthcare, and Genomic Applications in Nursing. Additionally, they teach two freshman signature courses, which are open to students of all majors, including: The Art of Science Communication, as well as Cultural Humility in Healthcare for incoming students. Dr. Osier also runs The Osier Laboratory, made up of a small motivated team of undergraduates, gap-year, and graduate students who are dedicated to collaborating on research and quality improvement projects, along with the associated deliverables. They really enjoy working and mentoring with students outside of the classroom - both in the laboratory and on manuscripts, presentations, awards, and other professional development activities.
Additionally. Dr. Osier is committed to promoting the nursing profession and health science research community through their service efforts. They are a member of multiple professional organizations, and often review abstracts for the associated conferences. 
Awards and Recognitions
In 2017, the Michigan State University College of Nursing bestowed the Recent Graduate Achievement Award to Dr. Osier.  More recently, Dr. Osier was recognized by the Austin American Statesman in 2019 for their dedication and commitment to the nursing profession.  
Contact Information
Email Address:
Phone: