Published:
December 11, 2019
Almost a year after Dean Emerita Sands' passing, The University of Texas at Austin School of Nursing memorialized her contributions to the health care field through a lecture in her honor. Dr. Bernadette Melnyk, Dean of The Ohio State University College of Nursing, presented "Evidence-Based Practice Plus Clinician Well-Being to Reach the Quadruple Aim in Healthcare: Key Tactics for Success."
"Considering the advancements Dean Melnyk has made towards mental health and nursing research, the faculty felt she was the best person to present the lecture." said Alexa Stuifbergen, Dean of The UT at Austin School of Nursing. "We are honored, not only by her visit, but that she focused on a subject that Dean Emerita Sands would have appreciated—promoting wellness in the nursing community."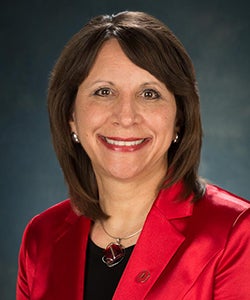 Dean Melnyk who also serves as the Chief Wellness Officer for The Ohio State University has a long and successful track record of facilitating nursing research and implementing evidence-based practices. First, with her COPE programs that focus on supporting healthy behaviors and positive thinking in children and teens, then as the co-chair of the American Academy of Nursing's Million Hearts Sub-Committee. With the committee, she facilitated the first large-scale national study linking nurses' sub-optimal physical and mental health conditions to higher rates of medical errors. Supporting clinicians with programs like COPE can lead to better patient outcomes and nurse wellness.
During her time as Dean of The UT at Austin School of Nursing, Dr. Sands championed nursing research initiatives funded by the National Institutes of Health, and served as director of the Center for Health Care Research and Evaluation, which is now the Cain Center for Nursing Research. In 1989 she was appointed as Dean of the School of Nursing. During her twenty years of service she garnered over sixteen million dollars in permanent endowments, including the Cain endowment that also supported an endowed chair in her name.
"The impact of Dean Emerita Sands' leadership is immeasurable—from her efforts to expand the research productivity of the school, to strengthening the PhD program and leading the implementation of our first nurse practitioner programs," said Alexa Stuifbergen. "I am delighted that we could honor her legacy today through collaboration grounded in research and policy application."
---
View the Dean Emerita Dolores Sands Memorial Lecture Video Featuring Dr. Bernadette Melnyk.