Published:
January 26, 2023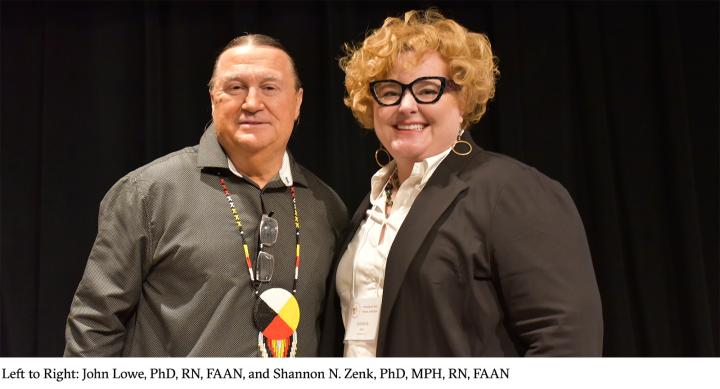 Indigenous researchers from 10 countries—Australia, Canada, Guam, Guyana, New Zealand, Norway, Panama, Taiwan, Torres Strait Islands, and the U.S.—shared research findings and approaches to address the health and well-being of Indigenous populations worldwide at the 3rd International Indigenous Nursing Research Summit.
Hosted by The University of Texas at Austin School of Nursing, the Summit was held on Nov. 3–4, 2022, at the AT&T Hotel & Conference Center. The event provided opportunities to learn about Indigenous populations and to network with nurse researchers who are actively working to improve the health and lives of Indigenous peoples. Shannon N. Zenk, PhD, MPH, RN, FAAN, Director of the National Institute of Nursing Research (NINR), was the keynote speaker.
"It's not like a typical research conference—in good ways," said Elizabeth Tarlov, PhD, RN, Director of the NINR's Division of Extramural Science Programs. "In addition to learning about the science, it was a cultural experience, and I really appreciated that."
Event leader John Lowe, PhD, RN, FAAN, Joseph Blades Centennial Memorial Professor in Nursing, said it was a great honor for the UT Austin School of Nursing to host the event. To Dr. Lowe, it suggested a growing unity among Indigenous populations.
"I think for many Indigenous people, especially Indigenous nurse researchers, they feel isolated, because we are so few," Lowe added. "When we come together and we discuss and share what we're doing and share the issues that we're confronting, there's so many similarities. Many of our health disparities and health inequities are a direct result from the colonization and the drama that occurred."
"It's amazing to hear how that occurred around the globe with Indigenous people and how, when we come together, we learn more about that experience and what our approach is to help address the consequences of it," he continued. "We learn from each other, we share, we laugh, we cry, we have this connection—there are no words to explain it—but I will say there is definitely a professional connection, but much more, there's a spiritual connection. It's just an honor when we can connect with each other and develop these relationships because the root goes so much deeper than just the surface professional relationship."
This was the largest, most attended Summit yet. Odette Best, PhD, RN, CF, FACN, FAAN, professor at the University of Southern Queensland, Australia, who was one of the event's organizers, said that the Summits continue to grow in attendance, and each one represents greater diversity of Indigenous nurses who participate and present their research.
"I'm hoping The University of Texas at Austin realizes the privilege they've had of having these amazing 150-plus participants of global Indigenous nurses, from around the world, presenting their research and their work," Dr. Best said. "And we're hoping it only grows from here."
Dr. Best hopes that individuals at the conference walked away with a better understanding of the importance and crucial role that Indigenous nurses play in conducting Indigenous research.
"I think long gone, hopefully, are the days where we are researched as a people by non-Indigenous nurses and non-Indigenous researchers," she said. "We need to be recognized and funded for the incredibly important work that Indigenous nurses do within the research space. And we hold our ground, and our research is world-leading, unique, impactful and it's about the health of our people."
Several attendees were students from the UT Austin School of Nursing. PhD student Jason Spees presented a poster titled "Indicators of Psychological Capital Among Self-Identified Indigenous Youth Experiencing Homelessness."
"It's been great to see the different of kind of research taking place with Indigenous peoples and what kind of things they're focusing on," Spees said.
For Spees, witnessing the Indigenous researchers discuss their cultures as well as the traumas and issues that they face made a vivid impression.
Referring to Indigenous populations, School of Nursing PhD student Nancy Blanco Arroyo said that, as researchers, "we also have the responsibility to follow through and we're not just dropping in and collecting data."
"If we're going to work with Indigenous populations, we have to be very aware that we have to give back and that the data isn't just ours but it's also theirs," she added.
School of Nursing Provost's Early Career Cohort Fellow Cynthia Greywolf, PhD, DNP-PMHNP, APRN, BC, a clinical assistant professor, presented a poster titled "Exploring Colonization, Historical Trauma and Link to Alcohol Use with Native Hawaiians in Rural Hawaii."
Dr. Greywolf said that this was the second Indigenous Nursing Research Summit she had attended, and that she enjoyed seeing the many Indigenous groups represented and hearing about their research. The Summit enabled her to interact with researchers from around the globe.
"There's an energy that is incredibly good—an energy of connectedness," she concluded.
The next Summit will be held in 2024 in New Zealand, with Denise Wilson, PhD, RN, FCA(NZ), FRSNZ, FAAN, from the Auckland University of Technology, leading the event.
The International Indigenous Nursing Research Summit has led to the formation of a network among Indigenous nurse researchers, the Indigenous Global Research Alliance in Nursing (IGRAIN). The countries of Australia, Canada, New Zealand, and the U.S. have taken the lead in this endeavor, with the intent to nurture seeds for Indigenous wellness through nursing research. The Alliance is currently developing their website.
"This is the result of the work of many and not just me or one other person," Dr. Lowe pointed out. "This is the result of the passion and the commitment by many of us who are very passionate about the work that we do. It's a whole team and villages rather than just one person. It's a real honor to be connected in that way and to be able to share the work."