Published:
November 9, 2020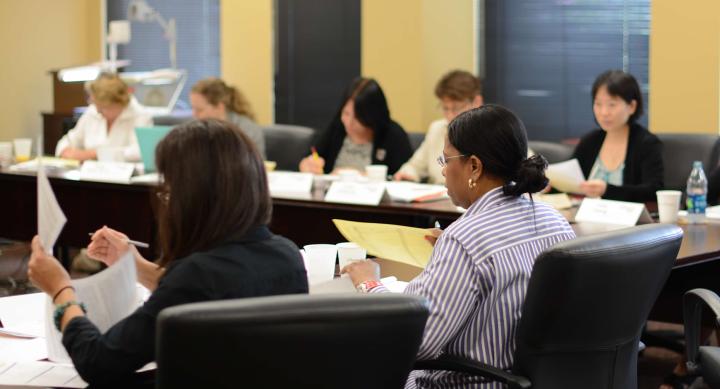 The UT Austin School of Nursing recently launched a new National Institutes of Health-funded T32 transdisciplinary predoctoral training program to provide future nurse scientists with critical skills and knowledge to develop and implement innovative, effective, and personalized interventions for the growing number of individuals struggling with multiple chronic conditions (MCCs).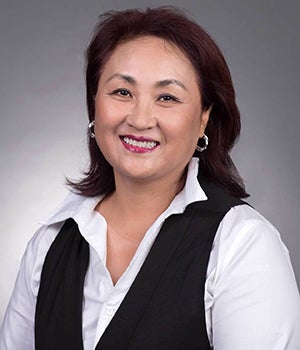 Miyong Kim, professor at the School of Nursing, associate vice president for Community Health Engagement at the Division of Diversity and Community Engagement, and the new program's director, received the five-year $944,788 grant to fund the Transdisciplinary Precision Health Intervention Methodology Training Program. This unique program will provide predoctoral trainees with cutting-edge knowledge and methods to access and use resources throughout the University and the Austin community to ensure training across disciplines and ultimately create a national model for training nurse scientists with precision health expertise.
Among all the health disciplines, nursing has made the most significant contributions to the care of people who struggle with MCCs, with advancements in both self-management science and implementation science, according to Dr. Kim. Recognizing that the U.S. health care infrastructure was originally designed to treat acute illnesses one disease at time, nurse scientists have long advocated for effective self-management strategies that address competing treatment regimens and incorporate social determinants of health.
At the same time, nurse scientists have significantly advanced implementation science by tailoring interventions to address the unique features of target populations. Cultural tailoring of intervention protocols to enhance their sensitivity for specific target populations has become a prominent implementation method led by many nurse scientists.
The recent medical paradigm shift initiated by precision medicine, along with significant advances in computational science, artificial intelligence, and mobile or wearable technology, presents nursing science with an important opportunity to advance self-management science to an entirely new level through the development of strategies tailored for the individual through precision health, addressing not only individual genetic and biological, but also psychosocial phenotypic, characteristics.
As an internationally respected self-management scientist and translational researcher, Dr. Kim is known for her transdisciplinary research focused on reducing health disparities through technological and scientific innovations. She currently is director of the NIH-funded P30 Center for Health Equity Research (HER) at the School of Nursing, which will provide an innovative, highly stimulating environment for these future nurse scientists.
"Whereas the first wave of precision medicine research focused on gathering genomic and biological data, truly personalized care — or precision health — will be possible only when an intervention or care practice integrates psychological, behavioral, environmental, social, and cultural determinants along with biological determinants," Dr. Kim said. "To advance self-management science with a focus on precision health in a timely manner, we need a cadre of nurse scientists who can effectively collaborate with related disciplines in developing novel research to determine the phenotypic characteristics of people with chronic conditions as well as deliver personalized self-management interventions. Precision interventions based on individual data will enhance the effectiveness of such programs, reduce financial and social costs, and improve the quality of life of the most vulnerable."
The first cohort of predoctoral scholars began their two-year fellowship training this fall. Additional scholars will be selected and trained over the following years of the grant period. One student in the first cohort, Eliana Gill, BSN-PhD student, believes that it is the opportunity to learn about a variety of disciplines that makes precision health so robust.
"I'm looking forward to opportunities to work with a diverse faculty, such as at Dell Medical School, the School of Nursing, the School of Engineering, and others," Eliana said. "I plan to research biomarkers and self-management in relation to respiratory symptoms in adults with cystic fibrosis, and I know working with UT Austin faculty will help me advance as a nurse researcher."
Doctoral student Emily A. Croce, MSN, APRN, CPNP-PC, agrees and said that the program will help her make a much larger difference in her area of interest as both a researcher and pediatric nurse practitioner.
"The courses that have been created and the amazingly accomplished faculty assembled from within the School of Nursing and throughout the university will add a richness to the doctoral experience," she said. "My research focuses on health disparities in children with eczema, asthma, and allergies, and I have already had many opportunities to impact this field with the addition of precision health. Of course, the financial freedom to focus on this opportunity is a huge benefit as well."
Kristen Sinay, MSN, RN, the third student in this year's cohort, explained that her decision to undertake doctoral studies and the precision health program in particular is rooted in a desire to learn research skills that will enable her to address difficult nursing problems and advance nursing scientific discoveries.
"To be immersed in structured, high-quality research training right at the launch of my doctoral education will provide me a strong foundation for future nursing research," she said. "The multidisciplinary and collaborative approach of this program is already connecting me with a variety of resources and opportunities that I may not otherwise have had access to."
The Transdisciplinary Precision Health Intervention Methodology Training Program is the only one in the nation with a precision health methodology training focus and was the only new T32 training program the NINR funded in 2020.
Building on the momentum of the new T32 training program and NIH-funded Center for Health Equity Research (HER), the UT Austin School of Nursing also received an award from the University Provost's office to fund a unique early nurse scientist post-doctoral training program. The program focuses on recruiting and nurturing early career scholars who will contribute to achieving the School's goals for diversity, equity, and inclusion.
The early career fellows will be funded for two years, receiving formal training as nurse scientists to further their development as independent researchers, along with the opportunity to be nurtured and mentored as potential faculty members of the School of Nursing. Fellows will receive competitive stipends and support for pilot research and professional travel.
"The UT Austin School of Nursing is increasingly recognized as a leading institution in health equity research," said Alexa Stuifbergen, dean of the School of Nursing. "In many neighboring communities in Central Texas, the School of Nursing is known as a highly effective academic partner, with a long history of community engagement research to address health equity issues. This unique program not only provides financial support for students on the path to becoming nurse leaders and scientists, it is also founded on the holistic approach to health care that has always been at the heart of the nursing model."
---
Visit T32 Precision Health Training Program page.
Click here to learn about the Provost's Early Career Cohort Fellowship Program's (PECCFP) eligibility criteria and to download the application form (PDF).