Published:
January 31, 2022
Professor Elizabeth Reifsnider, PhD, WHNP-BC, PHCNS-BC, FAANP, FAAN, will be inducted as president of the Southern Nursing Research Society during the society's annual conference Feb. 23–25, 2020, in New Orleans. Dr. Reifsnider is currently the Nancy Melvin Endowed Professor of Pediatric Nursing, Edson College of Nursing and Health Innovation at Arizona State University and a 2019 Fulbright Scholar. She received her PhD in nursing in 1994 from The University of Texas at Austin School of Nursing.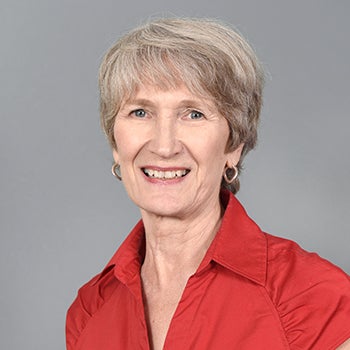 Her current research focuses on determining how clinicians (physicians, nurse practitioners, and physician assistants) spend their time with patients; measuring how sleep, infant nutrition, and gut microbiome affect infant growth from newborn to 12 months; and examining the effect of directed play for families with children with medical complexity on family cohesion and stress. She is PI of a team of nurses from seven countries (the U.S.A., Japan, Korea, Turkey, Hungary, Czechia [Czech Republic], and Guinea) determining the compassion fatigue and resilience of nurses globally during the COVID-19 pandemic, and a consultant to Phoenix Children's Hospital to develop nursing research for bedside nurses and care coordination for families of children with medical complexity.
As SNRS president, Dr. Reifsnider hopes to increase the diversity and inclusivity of the society. She believes it will require the full participation of all nurses, of all educational levels, who are passionate about improving human health through nursing research to address the persistent health disparities in the nation and improve health care.