Published:
January 24, 2023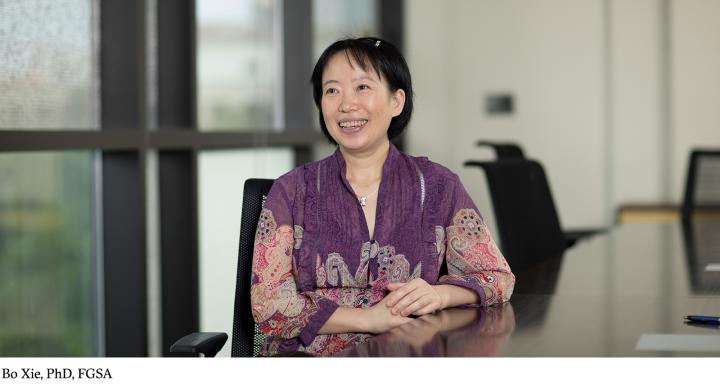 The University of Texas at Austin School of Nursing Professor Bo Xie, PhD, FGSA, has received a $561,417 grant from the National Institute on Aging in the National Institutes of Health for a high-priority R56 research project titled Tailoring Responses to ADRD Caregivers' Information Wants Through Human-Machine Collaboration (TRACO).
Alzheimer's disease and related dementias (ADRD) are a major public health concern. Individuals with ADRD require extensive daily care, often provided by family members: in the U.S. in 2018, caregivers provided approximately 18.5 billion hours of informal, unpaid care for those with ADRD valued at $233.9 billion. This caregiving is stressful, and it can severely affect caregivers' health and well-being. Yet according to Dr. Xie, caregivers report that they have been unable to obtain sufficient information about challenges or care options through conventional sources including clinicians.
Dr. Xie is conducting this highly interdisciplinary research with Daqing He, PhD, Professor in the Department of Informatics and Networked Systems and the Intelligent Systems Program at the University of Pittsburgh's School of Computing and Information.
Co-investigators on the project include Robin Hilsabeck, PhD, ABPP, Director of the Comprehensive Memory Center in the Mulva Clinic for the Neurosciences at The University of Texas at Austin Dell Medical School, and Alyssa Aguirre, LCSW, Assistant Director of Dementia Care Transformation for the Department of Neurology in The University of Texas at Austin Steve Hicks School of Social Work.
"Our project is a great example of utilizing interdisciplinary expertise to solve real world problems of great significance," Dr. Xie said.
"Our long-term goal is to help diverse caregivers obtain information tailored to their needs and situations to enhance the quality of care and reduce caregivers' stress," she explained. "Toward this goal, we plan to develop the TRACO system through human-machine collaboration."
The development of the TRACO system will serve as proof of concept for the team's next study, where they will systematically examine the efficacy of a TRACO-based intervention among diverse caregivers—individuals in underserved communities whose primary language is not English and who lack technology access and literacy. TRACO will include two components: a backend that handles computation and storage—a tailoring engine—and a frontend installed on caregivers' mobile devices—a mobile application interface.