Published:
December 11, 2019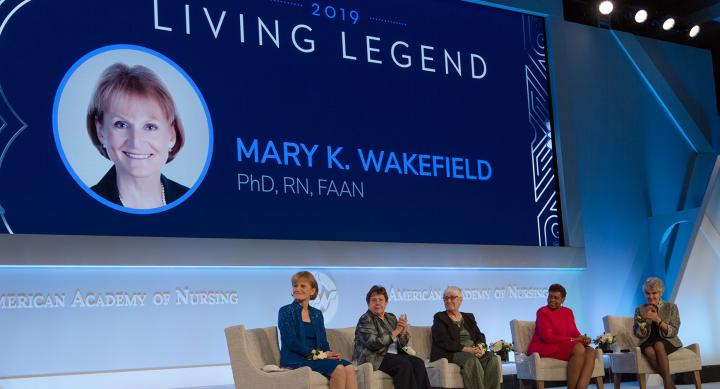 The University of Texas at Austin School of Nursing graduate and Visiting Professor Mary Wakefield, PhD, RN, FAAN, is one of this year's honorees of the Living Legend award. The American Academy of Nursing awards this distinction to individuals who have demonstrated extraordinary contributions to the nursing profession throughout their career.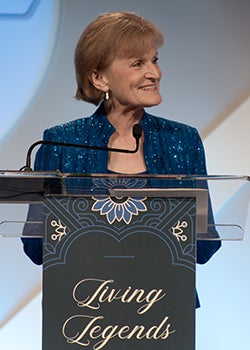 "Receiving the Living Legend Award is an incredible honor," says Wakefield, "and, I think it's a real tribute to the premier education nursing students receive at The UT at Austin School of Nursing. Back when I was a graduate student, we didn't have the UT Austin slogan 'What starts here changes the world.'  However, the spirit of that sentiment was both supported and an expectation of graduate nursing students."
During her tenure as Administrator of the Health Resources and Services Administration and as Acting Deputy Secretary of the Department of Health and Human Services, she oversaw foundational work to strengthen the health care workforce, increase health equity, and provide services to patients who are geographically isolated or economically or medically vulnerable.
"Dr. Wakefield's high-profile career has positioned her in a unique way," Alexa Stuifbergen, Dean of The UT at Austin School of Nursing, said, "not just to elevate the role that nurses have on shaping health care policy, but also to impact change in health education as a visiting professor at The UT at Austin School of Nursing. We are incredibly proud of her accomplishments." 
Dr. Wakefield received a Master of Science in Nursing degree in 1978 and a PhD in Nursing in 1985 from The UT at Austin School of Nursing. She is also serving as co-chair of the National Academy of Medicine's Consensus Study on the Future of Nursing 2020-2030.