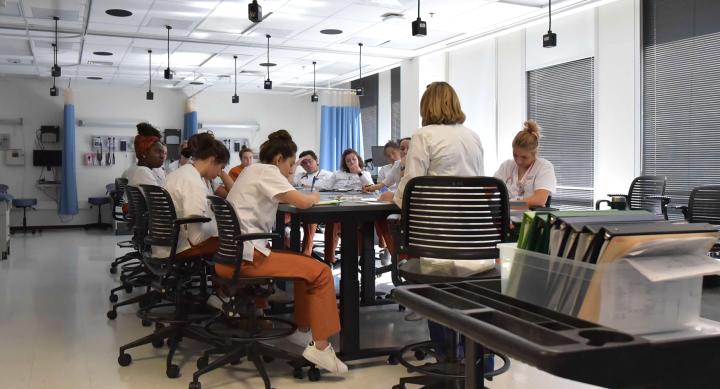 Did you know that, in addition to educating the next generation of TEXAS Nurses, the UT Austin School of Nursing is also working to address the shortage of Nurse Educators? In Fall 2020, we launched the Certificate in Teaching Nursing Program which is designed for nurses who are seeking to enhance their teaching skills, and for those who are seeking an academic career in teaching nursing. All courses are fully online and, for those students who hold a master's or higher degree, the Certificate in Teaching Nursing will qualify them to sit for the National League for Nursing's certification exam!
As the U.S. population ages and there is increased need for health care services, a shortage of Registered Nurses (RNs) is projected to increase. Simultaneously, due to nursing faculty retirements and fewer nurses choosing academia, a shortage of nursing faculty is projected to worsen over time and contribute to the nursing shortage (AACN, 2019). A 2018 survey of U.S. schools of nursing showed that 75,029 qualified applicants were not admitted to nursing programs due to various factors, including a lack of nursing faculty. Most respondent nursing schools listed faculty shortages as one reason for not accepting all qualified applicants into baccalaureate programs AACN, (2019).
Additionally, with the rise in nurses choosing advanced education in Advanced Practice Registered Nurse Programs, there has been a decrease in master's programs preparing registered nurses to teach. To address these issues, the University of Texas at Austin School of Nursing proposed a Certificate in Teaching which is a 9-credit teaching program that will allow certificate holders to sit for the national exam, Certified Nurse Educator, and improve their teaching knowledge and skills in order to better serve the needs of schools/colleges of nursing and clinical sites.
Since this certificate program is fully online, it is available to any BSN-prepared registered nurse anywhere in the state, country or worldwide, as well as any UT Austin graduate student. Applications are open year-round, but a fall start is recommended to kick off your new career as a nurse educator!