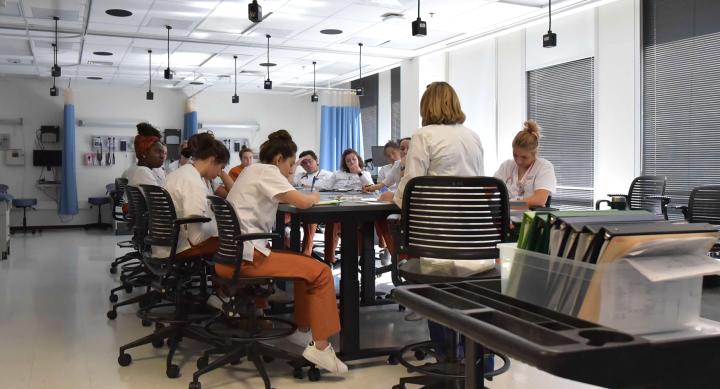 Teaching Nursing Certificate Program Overview
Application Deadline: Open
Program Start:  Fall start is recommended but not required
Length of Program: 2 semesters & 1 summer term (Certificate awarded upon completion)
Part-Time Study: One course each semester
Program Delivery: Web-based
About the Teaching Nursing Certificate Program
The Certificate in Teaching Nursing is designed for nurses who are seeking to enhance their teaching pedagogy/skills and also for those who are seeking an academic career in teaching nursing.
Educational Objectives include:
Apply approaches to assess learning needs/style/motivation of the learner
Demonstrate knowledge of curriculum planning, design, and evaluation
Examine the legal and ethical responsibilities of educators
Apply selected learning theories and teaching strategies in academic and clinical practice settings
Implement teaching/learning processes with selected learners
Analyze sociopolitical, economic and institutional factors associated with nursing education
Plan strategies to meet teaching, service and scholarship functions of the faculty role
The certificate program plan consists of the following 3 courses for a total of 9 credit hours.
N390U Foundations of Nursing Education (fall semester)
N390V Art and Science of Teaching in Nursing (spring semester)
N390W Role of the Nurse Educator (summer semester)
All courses are fully online. For those students who hold a master's or higher degree, the Certificate in Teaching Nursing will qualify them to sit for the National League for Nursing's certification exam, Certified Nurse Educator.
Teaching Nursing Resources
Admission Requirements

All students interested in applying for graduate study in Nursing at the University of Texas at Austin must meet the admission requirements established by the University's Graduate School and the School of Nursing. Applicants are expected to be graduates of accredited colleges or universities. Below are the minimum requirements for admission.

Degree: A BSN degree or an associate's degree in nursing and a baccalaureate degree outside of nursing
GPA: 3.0 (on a 4.0 scale) or comparable GPA in upper-division work (junior- and senior- level courses) and in any graduate work completed
Recommendations: 1 required
Statement of Purpose
Curriculum Vitae/resume
Nursing License: Current Texas RN licensure or a license from "Nurse Licensure Compact" state, if admitted.
Application Procedures

Complete online application for admissions and pay application fee at ApplyTexas.org. The online application is data entry only. All supporting application documents are uploaded on the My Status page after the application is paid and submitted.

*Recommendation: Complete online application, as early as possible. This allows time for all required documents to be completed and uploaded by the deadline.

Supporting Documents

Official transcripts, dated one year or less, from all four-year institutions attended.
Official transcripts, dated one year or less, for Associates Degree in Nursing (ADN), if applicable. See Teaching Nursing Certificate Application Checklist for transcript upload procedures.
Curriculum Vitae: Readable font, 12-point, 1-inch margins
Personal Statement: Maximum two (2) pages. Readable font, 12-point, double spaced, 1-inch margins
Recommendations: 1 required / 1 maximum

Using our secure, personalized form, one (1) professional recommendation that attests to the applicant's academic ability, professional competency and personal character must be submitted electronically by the recommender. 
Written recommendations are not accepted.

Official TOEFL scores taken within the past two years (for International Applicants only).

All materials are to be submitted electronically to the My Status Check (available approximately two days after online application submission) after completion of the application on ApplyTexas.org.
Tuition and Fees

Tuition and Fees for the Teaching Nursing Certificate Program
Items
Cost
Application Fee:
$65
Tuition per semester *
3 credit hours: fall
$2,000
3 credit hours: spring
$2,000
3 credit hours: summer
$2,000
9 credit hours:
$6,000
UT ID (first semester):
$10
Estimated Costs as Applicable
**Textbook per semester:

*Resources used, and cost varies by course and instructor.
Acceptance to Graduate Programs in Nursing

The Certificate Admissions Committee begin preliminary admission reviews after the March 31st deadline. All application materials are required to be submitted by the program's application deadline; files that remain incomplete will not be reviewed or acted upon by the committee.

If admitted, applicants will be notified of the admission decision in April. Decisions are communicated in the following ways:

Offers of admission are sent via email by the School of Nursing.
Official e-letters from the Graduate and International Admission Center notifying you of the admission decision of the Office of Graduate Studies are available on the application Status Check page.

Acceptance by both the School of Nursing and the Office of Graduate Studies are necessary before enrollment is permitted.

NOTE: Email is the official means of communication for all university business.

If not admitted, applicants will be notified by the GIAC only.

Please feel free to email Graduate Student Services Office if you have questions about the admission process.
Financial Support

Certificate program students needing financial assistance are eligible for federal financial aid and may be eligible for private education loans. Private loans are available from various lending institutions (e.g. banks, credit unions, etc.). The university is prohibited by federal law from recommending any particular private loans to certificate program students, but we encourage you to shop competitively before choosing a particular private loan to help meet educational expenses. The interest rates on these loans vary, as do other terms and conditions. Also, most private lenders require loan certification from the school in order to verify enrollment and Cost of Attendance amounts. Click here for more information about loans.