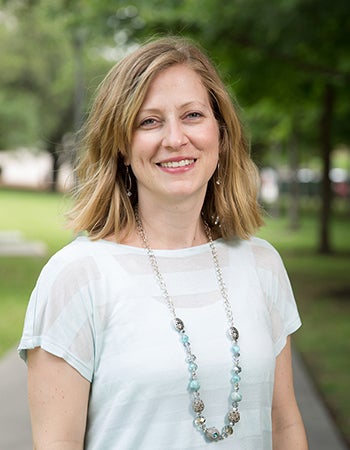 Whitney Thurman, assistant professor at The University of Texas at Austin School of Nursing, is one of 16 nurse scientists accepted to the fourth cohort of the Betty Irene Moore Fellowship for Nurse Leaders and Innovators. This fellowship program is funded by the Gordon and Betty Moore Foundation.
"I am very honored to have been selected for this fellowship program," Thurman said. "It is an incredible opportunity for me to gain research and leadership skills that will launch me to effectively lead diverse coalitions and realize my vision of creating systems that support disabled older adults with lived experience of homelessness to age in place in healthy, resilient communities and to attain optimal health and well-being."
As part of the three-year fellowship program, fellows receive $450,000 to conduct an innovative project or study with the potential to address a gap in knowledge, meet a vital need, alter care delivery or design a new solution to advance health. Thurman's project focuses on developing and implementing community-centered care to meet complex needs of formerly homeless adults.
"We are proud of the accomplishments and are confident she will continue to contribute to the nursing profession and help improve health equity and health care services," said Dean Alexa Stuifbergen.
In addition to the project, the fellowship program features a hybrid online and classroom curriculum designed and taught in partnership with the UC Davis Graduate School of Management and national experts to enhance leadership and innovation capacity, strengthen strategic thinking and collaborative skills, expand professional networks, develop entrepreneurial skills, and propel innovative ideas to fruition. A mentor selected by the fellow and an additional mentor provided by the national program office round out the educational experience.
The fellowship program is made possible by Betty Irene Moore's passion to advance nursing with the goal of better outcomes for individuals, families and communities. The foundation seeks to prepare nurses as collaborative leaders with the skills and confidence to inspire others, enact change and challenge the status quo. With the creation of the Betty Irene Moore Fellowship for Nurse Leaders and Innovators, the foundation supports nurse leaders who take ideas to scale that advance high-quality, high-value care and optimal health outcomes.