Published:
August 18, 2022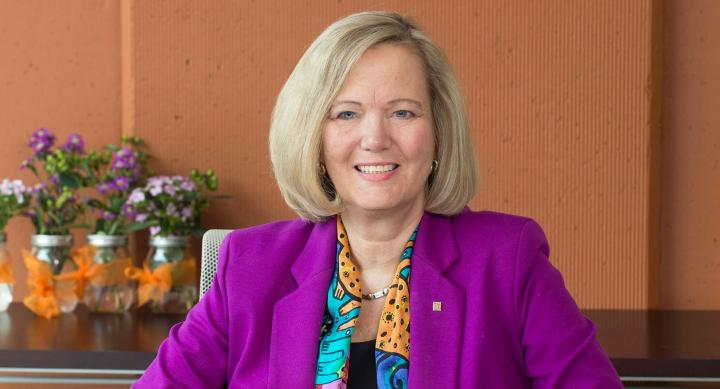 After over a decade of dedicated service as the dean of The University of Texas at Austin School of Nursing, Alexa Stuifbergen will conclude her tenure as dean upon completion of the 2022-23 academic year and will continue as faculty.
"Serving as dean of the UT Austin School of Nursing has been a great honor," Stuifbergen said. "It has been exhausting, challenging and exciting – occasionally all at the same time. Working together we have been able to continue the long and successful history of service, achievements and impact of this school.
"I know this is the right time for me to return full time to my long-deferred research and teaching interests, after an administrative career that I thought 26 years ago would be brief when I became a Division Chair and later Associate Dean for Research. In retrospect, I would not have traded this experience and journey for anything."
Dean Stuifbergen became interim dean for the School of Nursing in August 2009 and dean in December 2010. She has strengthened the school's reputation and enhanced its impact as one of the nation's leading nursing schools. Ranked No. 12 in the nation among public schools of nursing by U.S. News & World Report, the School of Nursing also ranks among the top nursing institutions in research funding by the National Institutes of Health (NIH).
Under her leadership, the school made history when one of its faculty members administered the first dose of a COVID-19 vaccine in Central Texas, and its students, faculty and staff then mobilized to coordinate and administer tens of thousands of vaccines throughout our community.
Dean Stuifbergen began her career on the Forty Acres in 1988 as a project coordinator shortly after receiving a Ph.D. in nursing from UT Austin. She joined the faculty as an assistant professor in 1989. She is a highly regarded researcher in the areas of health promotion, chronic conditions and rehabilitation, and she has taught undergraduate and graduate courses for more than 30 years. Dean Stuifbergen served as a member of the National Advisory Council on Nursing Research for the NIH, and she has served on national committees for the Rehabilitation Nursing Foundation, the National MS Society and the NIH.
During her tenure, the UT Austin School of Nursing significantly improved student success and retention of undergraduates with retention rates exceeding 95 percent and a four-year graduation rate greater than 80 percent.
Through Dean Stuifbergen's leadership, the school has recruited many new nursing faculty scholars. Additionally, since the beginning of her tenure, Dean Stuifbergen and the school have secured over $47 million in new commitments to support scholarships, renovations, faculty and community-focused initiatives, including the establishment of 52 new endowments that have enhanced the mission of education, service and research.
As noted by Provost Sharon Wood, "the school has demonstrated time and again the tremendous value of nursing education, whether through community partnerships, interdisciplinary professional education, compassionate and tireless care — as seen during COVID-19 vaccine administration — or through the critical research and scholarship that address our country's health care needs. These accomplishments underscore Dean Stuifbergen's deep commitment to the university and the School of Nursing."
"There is much to be accomplished over the next year, and I look forward to continue working with faculty, staff, students, alumni, the Advisory Council and friends to bring the very best to our School of Nursing," Stuifbergen concluded.