Published:
February 10, 2022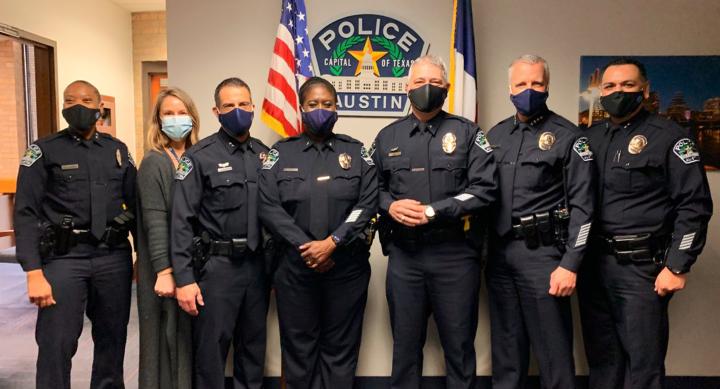 African American Mental Health and Wellness (AMEN) team is collaborating with KAZI FM 88.7 in producing a radio series to highlight the importance of addressing mental health and physical wellness in the African American community. The monthly series will feature AMEN team members from the School of Nursing, leaders from Mt. Zion Baptist and Rehoboth Baptist churches, and community organizations who provide mental health resources and support in Travis County. 
---
Austin Police Department & Community Engagement: A Path Towards Racial Equity 
| | |
| --- | --- |
| February 9, 2022 Podcast: |   |
Jacki Hecht interviewed Joyce James, CEO of Joyce James Consulting, Joseph Chacon, Austin Police Department's (APD) Chief of Police, and Robin Henderson, APD's Chief of Staff, to discuss APD's goal to reimagine public safety.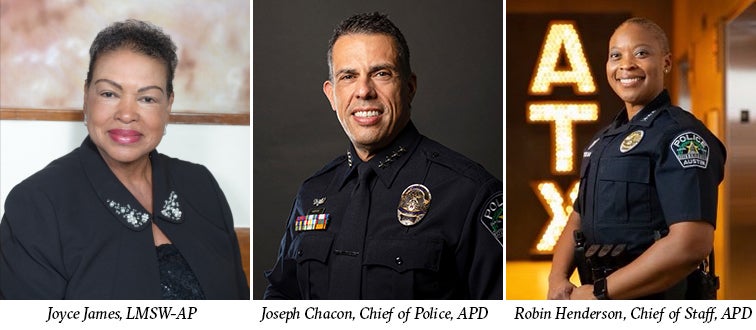 Joseph Chacon notes that APD strives to become more responsive, build trust within the community, and ultimately produce better outcomes. APD has committed to fulfilling this goal by engaging with Joyce James Consulting to help identify issues within the police force, provide training and development for the officers, and share feedback with the leadership. Chief Chacon adds that this guidance and consultation has begun to "eradicate obstacles within the department" and lays the foundation for more equitable outcomes between police and the community.
Chief of Staff, Robin Henderson, ensures that APD is striving to create an anti-racist culture throughout the city by maintaining accountability, carefully monitoring situations, and by staying educated. Henderson adds that APD seeks to establish a safe and supportive work environment to ensure that policies and procedures do not adversely impact any members within the community. APD plans to engage the community as partners in this effort by inviting them to public dialogues to help make a change. Joyce James invites listeners to join them on February 24th from 6:00 - 8:30 pm at Holy Cross Catholic Church for a community engagement session with APD.
Austin Police Department - Community Engagement Dialogue
Please join Chief Joseph Chacon and other APD leadership to learn more about APD's new efforts to promote racial equity. We want to hear your feedback and suggestions on how to ensure the safety of all our communities.
Date: Thursday, February 24, 2022
Time: 6:00 pm - 8:30 pm
Location: Holy Cross Catholic Church (Masks Required by the Venue)

Family Life Center
1610 East 11th St.
Austin TX 78702
Download the Community Engagement Dialogue flyer (PDF) for more information about the event.
---
Learn more about AMEN podcast and check out other episodes!