Published:
January 26, 2023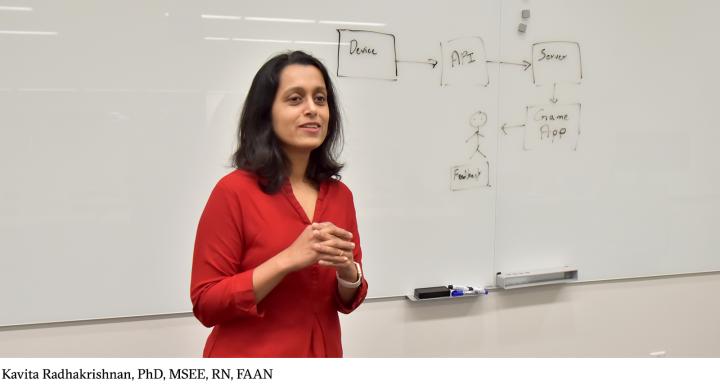 Since 2018, Associate Professor Kavita Radhakrishnan, PhD, MSEE, RN, FAAN, has been finding successful ways to encourage and monitor patients with heart failure (HF) through sensor-controlled digital games (SCDGs). In the spring of 2022, she launched two new R01 projects funded by the National Heart, Lung, and Blood Institute at the National Institutes of Health, totaling $6.5 million.
The SCDGs that will be tested in these projects were developed by Dr. Radhakrishnan and her team over a series of preliminary studies to integrate data from behavior-tracking sensors to trigger progress, rewards, and positive feedback in a digital game to motivate real-time behaviors that enhance HF management.
Her research began with a pilot grant awarded by the School of Nursing's Center for Transdisciplinary Collaborative Research in Self-Management Science, a P30 Center of Excellence funded by the National Institute of Nursing Research (NINR). This pilot study was a collaborative effort with the UT Austin Simulation and Gaming Application Lab, to test the feasibility of creating a device.
Dr. Radhakrishnan received a grant in 2018 from the NINR to conduct a feasibility randomized controlled trial with HF patients in their homes to see if the newly created devices would work and transfer the data. Over time, her team was able to refine the device.
Now continuing this research, one of her newly funded projects will include 200 people with HF across the seven southern U.S. states of Alabama, Arkansas, Georgia, Louisiana, Mississippi, Oklahoma and Texas.
"We want to see how playing digital health interventions improves health outcomes and quality of life, and most importantly, self-care behaviors," Dr. Radhakrishnan said.
In collaboration with John Lowe, PhD, RN, FAAN, the Joseph Blades Centennial Memorial Professor in the School of Nursing, the second newly funded project will help determine whether the SCDGs are culturally adaptable.
For this study, they have combined their strengths—Dr. Radhakrishnan with her experience with technology interventions for self-care and Dr. Lowe with his experience working with Native Americans and Indigenous populations.
Their work with the Lumbee Native American Tribe in North Carolina will use community-based participatory research, as they work with community members and identify their preferences in adapting the game.
"The collaboration of several people across so many disparate disciplines is responsible for developing a unique intervention that is showing signs of genuinely extending life expectancies in a creative—and fun—way," Dr. Radhakrishnan said.