Read about Teresa 'Tess' Berndt, Dr. Tracie Roseberry, Brenda Olmos, Olubukayo 'Bukayo' Akinyemi, Isadora Fox, Dr. Amanda J. Simonton, Lucy Parker, Kate Hanley, Sabrina Kones, and Rachel Alhanti.
---
Teresa 'Tess' Berndt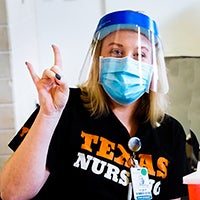 Meet Teresa 'Tess' Berndt, a current student in our Alternate Entry Masters in Nursing program (AE-MSN). Ms. Berndt chose to become a nurse because she wanted to take a hands-on approach to impacting people's lives. "I received my undergraduate degree in Public Health at Baylor University and after learning about health policy, and health education programs, I wanted to implement what I learned on a daily basis with critically ill patients."
Since December 2020, Ms. Berndt has been an integral part of our volunteer vaccination team. "I thought, well I am not doing anything this winter break, I might as well volunteer and get some clinical experience while partaking in a historic moment for this pandemic." Since then, Ms. Berndt has volunteered almost every single day.
While volunteering for our on-campus clinics, Ms. Berndt particularly enjoyed the opportunity to get to know, and learn from, some of UT Austin's amazing nursing faculty. "My favorite part of volunteering for the clinic was being able to give the vaccine to Dean Stuifbergen, my two clinical instructors, Dr. Lin and Professor Herrera, and a few of my classmates and friends!"
Ms. Berndt was also able to work closely with Associate Dean Ginsburg of the College of Pharmacy. Once she was taught how to reconstitute, or mix, the vaccine, she would volunteer 1-2 times a week both before and in between classes. "Gaining an understanding of hospital pharmacy as it relates to nursing has been a really rewarding experience in addition to my volunteerism."
Tess was thankful to have been volunteering the day our on-campus vaccine clinic administered their 100,000th dose. She also credited UT Austin School of Nursing leadership for the opportunity to be a part of this historic moment in nursing. "I couldn't thank Dr. Stephanie Morgan enough for all the hard work she has put into the vaccination clinic and for letting me be a part of her team!"
We honor Ms. Tess Berndt for stepping up to ensure that our vaccine clinics were staffed with knowledgeable and caring volunteers. We could not have achieved our 100,000th vaccination without the dedication of nursing students like you!
---
Dr. Tracie Roseberry
Meet Dr. Tracie Roseberry, a graduate of our Doctor of Nursing Practice (DNP) program. Dr. Roseberry (AE-MSN '09, DNP '17) provides care for surgical patients with complex cardiac illness and advanced heart failure. In addition to her clinical practice as an advanced practice nurse in Cardiothoracic Surgery, Dr. Roseberry is heavily involved in the implementation of quality initiatives to improve outcomes of open-heart surgery patients. 
In response to restricted visitor policies during the COVID-19 pandemic, Dr. Roseberry has been working on a healthcare-provider driven process for scheduled video conferencing to facilitate important discussions with patients and their support network. "Restricting visitors created many challenges for patients. Hospitalized patients are exceptionally vulnerable due to illness or weakness and they are often of an advanced age. Without visitors, hospitalized patients are tasked with understanding their complex medical problems and then responsible for communicating this to their support network. We see the impact of having families rally around their hospitalized loved one in an important show of support. For the safety of patients, visitors, and hospital staff during a pandemic, we need to facilitate alternative ways for that to happen as a standard practice." 
We honor Dr. Roseberry for her leadership in facilitating virtual care team discussions to improve upon our nursing practice, and to increase patient and family satisfaction.
---
Brenda Olmos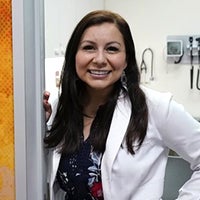 Meet Brenda Olmos (BSN '11), a registered nurse, family nurse practitioner, clinical instructor, and PhD student. After earning her BSN at UT Austin, she went on to earn her Master of Science in Nursing-Family Nurse Practitioner (MSN-FNP) at Texas State University. Today, Ms. Olmos is a Reynolds Scholar at the University of Oklahoma Health Sciences Center and currently pursuing a PhD with a goal to improve the health of older persons via leadership in academic, clinical and policy arenas in the United States.
Locally, Brenda is a role model and advocate for her community. She is passionate about Latinas in leadership and organizing nurses for the benefit of the local Hispanic community. Ms. Olmos serves on the board of directors of Austin Advanced Practice Nurses and is the founder of the new Austin chapter of the National Association of Hispanic Nurses (NAHN). In true TEXAS Nursing spirit, Ms. Olmos is passionate about teaching and saw an opportunity to gather nurses in the community for the greater good.
We honor Ms. Olmos for her leadership in creating the Austin chapter of National Association of Hispanic Nurses and for her dedication to her local community.
---
Olubukayo Akinyemi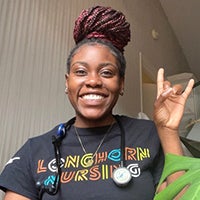 Meet Olubukayo 'Bukayo' Akinyemi, M.S., a current student in our Alternate Entry Masters in Nursing (AE-MSN) program with a focus on Psychiatric and Mental Health. Bukayo has been involved with our Diversity, Equity and Inclusion (DEI) committee since Fall 2020. "I wanted to work alongside faculty leaders at the School of Nursing in creating a more inclusive environment for students. I serve as a graduate student representative sharing my thoughts as well as the thoughts of my fellow AE-MSN peers."
In addition to her work with our DEI committee, Bukayo works closely with a Los Angeles based organization called St. Joseph Center, whose larger mission is to end homelessness. She started working with St. Joseph Center in 2018, doing field work as a mental health case manager. "Since the pandemic began, I have been working with their Quality Assurance team by supporting on the ground staff with trainings, documentation help, and serving as a liaison between the organization and the Los Angeles County Department of Mental Health. I love this organization and the mission it upholds and hope to work with a similar organization and population when I graduate!"
We honor Ms. Olubukayo Akinyemi for working to build an equitable, inclusive culture within the UT Austin School of Nursing, and for her leadership with the St. Joseph Center in LA to assist their homeless community during the pandemic.
---
Isadora Fox
Meet Isadora Fox, PMHNP, a current student in our Doctor of Nursing Practice (DNP) program. In addition to her psychiatric-mental health outpatient practice, Ms. Fox (MSN '12) has been volunteering to mentor new mental health nurse practitioners at the state level with her professional organization, Psychiatric Advanced Practice Nurses of Texas.
When Ms. Fox entered the workforce as a newly graduated psychiatric-mental health nurse practitioner (PMHNP), she had many questions but her workplace had no orientation for new providers. At the time, there were few opportunities to connect with more experienced Nurse Practitioners, so she decided to fill this knowledge gap with the help of her professional organization, Psychiatric Advanced Practice Nurses of Texas. Ms. Fox spearheaded the creation of a formal mentoring program for new PMHNP graduates across the state. Today, group sessions are held monthly for question-and-answer opportunities and all new graduates are matched with a mentor. Mentees are encouraged to ask about anything from clinical questions to handling relationships with collaborating physicians.
This mentorship program has also provided Ms. Fox with an opportunity to study how educational stewardship impacts the early practice of PMHNPs, specifically those who are educated in online programs and have a need for post graduate mentorship. This student was the subject of her DNP project. Ms. Fox is currently in private practice in Austin.
We honor Ms. Isadora Fox for her leadership within the Psychiatric Advanced Practice Nurses of Texas organization to create opportunities to connect new PMHNP graduates to experienced practitioners.
---
Dr. Amanda J. Simonton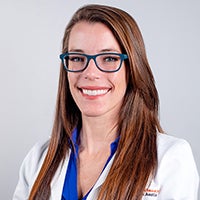 Meet Amanda J. Simonton, PhD, APRN, PMHNP-BC, a board-certified psychiatric-mental health nurse practitioner in Austin, TX, and a faculty member in the School of Nursing at The University of Texas at Austin. Dr. Simonton (BSN '13, MSN '18, PHD '20) primarily works with adults with dual-diagnosed substance use and psychiatric disorders, and with children and adolescents struggling with psychiatric issues.
In addition to teaching and practice, Dr. Simonton is involved in legislative action through the Policy Council of Texas Nurse Practitioners and holds leadership positions within the Texas Chapter Board of Directors for the American Psychiatric Nurses Association and with the Psychiatric Advanced Practice Nurses of Austin as Vice President. She is strongly motivated to connect with her students and frequently encourages them to engage in legislative activities and seek opportunities for nursing leadership.
Dr. Simonton holds a strong passion for sharing knowledge related to mental health care and for mentoring students as they launch into their nursing careers. In the future, she hopes to bring awareness to, and provide education on, specialty issues related to the LGBTQ+ population for her students and for her community at large.
We honor Dr. Amanda Simonton for encouraging nurses to become more involved in health policy and for bringing attention to LGBTQ+ mental health issues. She is working to ensure that nurses have a prominent seat at the decision-making table with regard to health policy.
---
Lucy Parker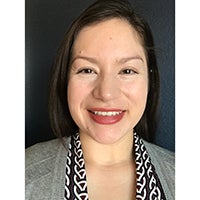 Meet Lucy Parker, a current student in our Master of Science in Nursing - Family Nurse Practitioner program. Ms. Parker is a first-generation college graduate who grew up in the Rio Grande Valley. She has been a practicing nurse for 10 years, with the last 5 years in an Intensive Care Unit setting.
In addition to her work in the ICU, Ms. Parker has also worked at an underserved prenatal clinic. "I truly enjoyed working with those patients. Their stories resonated with me and one particular case brought me to tears because it mirrored my family's story so closely. I would not be where I am if it wasn't for my parents' decision to cross the border in search of opportunities. I am grateful that the clinic had resources available to help this family and it made me hopeful for a better tomorrow for them."
Though she was not able to help this family directly, due to limited time and resources at the clinic, Ms. Parker was able to make a diaper donation to their Diaper Bank and make monetary donations to the People Community Clinic to support their care. "This reminded me of a quote by Paul Shane Spear, "As one person I cannot change the world, but I can change the world of one person" – we have the power to impact the lives of others, even if it is in small ways. As a future nurse practitioner, I hope to be that catalyst for change and help my community live healthier lives."
We honor Ms. Lucy Parker for her dedication to caring for underserved families and for going the extra mile for her patients who are most in need.
---
Kate Hanley, Sabrina Kones, and Rachel Alhanti
Meet Kathryn (Kate) Hanley, Sabrina Kones and Rachel Alhanti, current students in our Psychiatric Mental Health Nurse Practitioner Program (PMHNP). Ms. Hanley has worked in the treatment of people with severe mental illness for 18 years. Ms. Kones and Ms. Alhanti both began their work with psychiatric and mental health patients while serving as social workers, with Kones serving this population for 14 years before starting the PMHNP program.
| | | |
| --- | --- | --- |
| Kate Hanley | Sabrina Kones | Rachel Alhanti |
Throughout their career, Ms. Hanley and Ms. Kones noticed that there appeared to be bias in psychiatric treatment by race, especially among African Americans. They felt these biases were significant enough to pursue further research into their observations to inform improvements in mental health outcomes. Since then, Ms. Hanley, Ms. Kones and Ms. Alhanti have conducted a review of literature and have highlighted these marked inequities. Together, they prompted a review of data for types of admission, restraints and diagnoses for the inpatients at Shoal Creek Hospital.
"We are excited to begin pinpointing racial bias in our local mental health system in order to exact a change that is critical to the future of psychiatric treatment." said Ms. Hanley. Ms. Alhanti has a deep interest in the systemic factors influencing mental health and health equity and intends to carry this lens into her professional nursing practice. Ms. Kones intends to focus on health equity in psychiatric treatment in her ongoing practice to improve wellness among marginalized populations.
We honor Ms. Kate Hanley, Ms. Sabrina Kones and Ms. Rachel Alhanti for their leadership in improving mental health outcomes for patients of color and for working diligently to ensure these new practices were implemented at their local hospital.
---