Read about Dara Vasquez, Tonychris Nnaka, Katherine "Kat" Carroll Britt, Hanade Abdalla, Eliana Gill, and Victoria Wright.
---
Dara Vasquez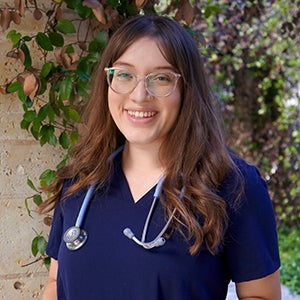 Meet Dara Vasquez, BSN '21, a recent UT Austin nursing graduate who has been working at the St. David's South Austin hospital completing her new graduate residency on the Neuro Medsurg floor. "I chose nursing because I want my work to contribute to improving health care for patients first hand. Bedside is where you get to make small but significant differences with patients and families every day. Eventually, I want to focus my nursing career in public health and I have learned so much from starting at a hospital level of care."
In addition to gaining the quality, hands-on experiences she needs to take the next step in her nursing career, Dara has also had the opportunity to work with current UT Austin nursing students on the Neuro Medsurg floor during their clinicals. "Our students are highly appreciated by both the patients and hospital staff, including myself. It makes my day to see them gain confidence in themselves as they move through their clinicals. I wish the very best to all of them in their educational journey."
We honor alumni such as Dara during Nurses Week for not only helping make a difference in the lives of her patients, but for also helping to train our next generation of TEXAS Nurses. Hook 'em!
---
Tonychris Nnaka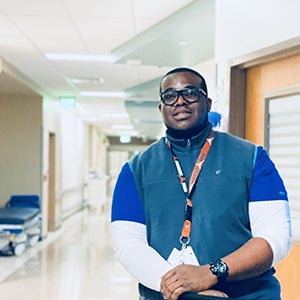 Meet Tonychris Nnaka, MPH, RN, CPH, a current Ph.D. candidate at the School of Nursing. He is a cardiovascular disease researcher with a focus on the use of precision health methodology and digital approaches in high blood pressure control interventions. Tonychris' past experience includes working with underserved communities while employed at the U.S. Department of Health and Human Services and as a critical care nurse leader at one of the largest safety net hospitals in the nation. "Heart disease is the leading cause of the death in the United States and disproportionately affects Black and Hispanic adults," he said. "Because hypertension is the precursor to most cases of heart disease, my research will attempt to quantify the extent to which environmental and structural racism contributes to hypertension disease risk and management among this population. I plan to merge my skills as an epidemiologist with my research activities to develop tailored risk mitigation and intervention strategies for hypertension disease among my targeted population."
Mr. Nnaka's goals for after graduation are to become an accomplished research scientist and a professor. He aspires to join the ranks of best scientists and influencers in areas of cardiovascular disease management and health policy. "As an undergraduate nursing student, I was extensively exposed to nursing research; I grew to love it and that has never changed. I chose to become a nurse because it would afford me the opportunity to save lives, provide compassion to the sick and the vulnerable, and comfort those who have no one to comfort them."
We honor Mr. Nnaka during Nurses Week for his dedication to contributing to the advancement of the profession through his research and look forward to his upcoming contributions to nurse education!
---
Katherine "Kat" Carroll Britt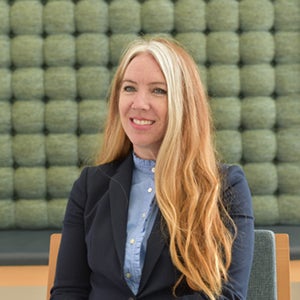 Meet Katherine "Kat" Carroll Britt, a doctoral candidate planning to complete her dissertation this summer. "I recently earned my MSN in Informatics, Quality and Safety from the University of Texas at Tyler in December 2021 and concurrently earning my PhD here at the UT Austin School of Nursing. "I always wanted to be a nurse from a young age as I helped my mother care for my grandfather who suffered from a series of strokes. I really enjoy helping others and my goal is to improve their quality of life!"
Ms. Britt has worked across multiple areas of nursing including pediatrics and geriatrics in the ICU and as a care manager helping older adults age in place. "My research focuses on identifying protective factors, such as religious and spiritual practice, against developing conditions for further cognitive decline among older adults including Alzheimer's disease and related dementias (ADRD). During my time at the School of Nursing, I have enjoyed working as Graduate Research Assistant for Senior Research Scientist, Dr. Kathy Richards, on her clinical trial "NightRest" in older adults with ADRD."
Kat is currently serving as a Jonas Scholar in Mental/Psychiatric Health for 2021-2023 and will start a postdoctoral fellowship at The University of Pennsylvania in the New Courtland Center for Transitions and Health in the School of Nursing this Fall where she will further her research exploration of non-pharmacologic interventions for older adults with cognitive impairment and ADRD. "I hope to create partnerships with faith communities to reduce health disparities in ADRD and in transitioning towards end-of-life care."
We honor Ms. Britt during Nurses Week for working to build our understanding of the connection of religion and spirituality with health!
---
Hanade Abdalla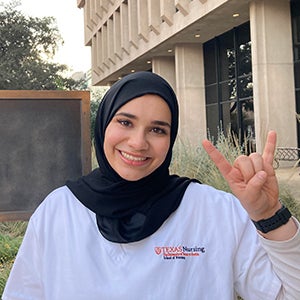 Meet Hanade Abdalla, an undergraduate student at the UT Austin School of Nursing working towards her BSN. "I've always known that helping others is what grants me the most fulfillment. I admire the holistic nature of nursing because it's not only about treating a physical illness or disease – it's about caring for the patients emotionally, spiritually and mentally." Hanade's favorite area of nursing is women's health. "After I graduate, I would love to work in the Labor & Delivery unit to help improve maternal mortality outcomes. Compassion, comfort and tact are all necessities in nursing and I've found that this program has captured my intellectual curiosity and embodies my personal character."
In addition to her studies, Hanade enjoys connecting with her nursing peers while taking part in various nursing related volunteer opportunities with the University of Texas Nursing Students' Association (UTNSA). "I love how there is so much room to grow in the School of Nursing and the ability to continue learning is never ending."
We honor Ms. Abdalla during Nurses Week for her dedication to the nursing profession! We look forward to ushering in this next generation of skilled and compassionate TEXAS Nurses.
---
Eliana Gill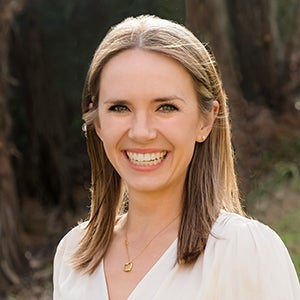 Meet Eliana Gill, a PhD candidate at UT Austin School of Nursing. "I am currently studying the relationship between symptoms and inflammatory biomarkers for people with Cystic Fibrosis. More specifically, I study how the symptoms they experience during an acute pulmonary exacerbation co-occur, or cluster, and if these clusters can describe outcomes from a pulmonary exacerbation." After graduating, Eliana will be attending a Postdoctoral Training Program in Omics and Symptom Science at The University of Washington to continue learning how to conduct precision health nursing research.
"I knew I wanted to be a nurse after I had a big surgery when I was in high school. The nurses who took care of me made me feel safe and secure in their care and I decided I wanted to become a nurse to help others feel the same way when in the hospital. People always hear that nursing is an art and a science, and it is true! Nursing is a profession based on practical science and knowledge, but to be an extraordinary nurse you have to remember that it also takes heart and that sometimes healing is just as much an emotional journey as it is a physical one. Never forget to wear your heart on your sleeve as a nurse!"
We honor Ms. Gill during Nurses Week for her contributions to Cystic Fibrosis research and for her dedication to providing skilled, compassionate care for our most vulnerable patients!
---
Victoria Wright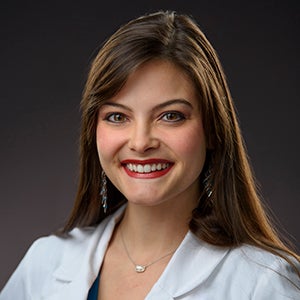 Meet Victoria Wright, BSN '17, MSN '21. "I am blessed to be a two-time Longhorn graduate, having obtained my BSN and MSN at The University of Texas at Austin. I received the ideal training for my role today and came out with many amazing peers and mentors that are helping to guide me on this path."
Ms. Wright is currently a Pediatric Nurse Practitioner with Baylor College of Medicine at Texas Children's Hospital in the Houston Medical Center. "I work on the Diabetes & Endocrinology team at TCH, both in the clinic and in the acute care setting. For my inpatient duties, I help manage newly diagnosed type 1 and type 2 diabetes patients, diabetic ketoacidosis patients, hyperglycemic hyperosmolar syndrome patients, oncology and bone marrow transplant patients with steroid or tacrolimus induced diabetes, and a myriad of other conditions. In the clinic, my focus is type 1 and type 2 diabetes with associated conditions from infancy up until young adulthood. My favorite part of what I do is seeing children and their families become adept with diabetes technology and confident in their ability to live healthy and fulfilling lives."
"I chose a career in nursing because I was diagnosed with type 1 diabetes at 3 years old. My experience as a pediatric patient with a chronic condition, and the wonderful care I was given by many nurses and doctors over my lifetime, inspired me to join the medical field. This also led me to my ultimate goal which was to become a nurse practitioner that worked with children with diabetes. I hoped to use my experiences to positively impact others with the same disease."
We honor Ms. Wright during Nurses Week for helping to improve the health and well-being of her pediatric patients. We are proud that this two-time TEXAS Nursing graduate is making a difference in the lives of her patients every day!
---