Published:
January 24, 2023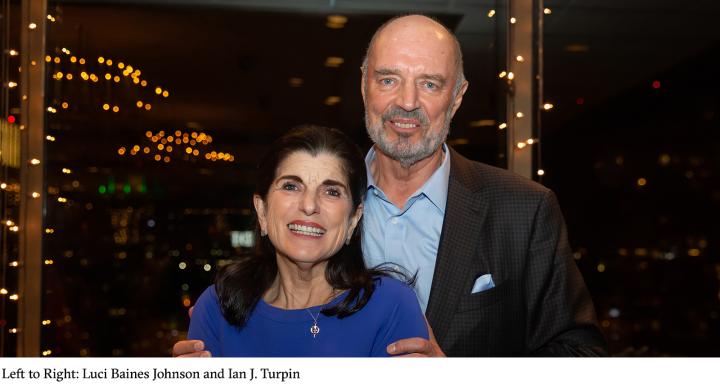 The University of Texas at Austin School of Nursing's efforts to educate outstanding nurses and improve care for older adults will continue to grow, thanks to a gift from long-time UT supporters Luci Baines Johnson and Ian Turpin, to create the Luci Baines Johnson and Ian J. Turpin Center for Gerontological Nursing.
"It is our hope that the Luci Baines Johnson and Ian J. Turpin Center for Gerontological Nursing will provide more nurses the special skills that they need to better serve a rapidly increasing number of seniors and their loved ones," said Luci Baines Johnson.
The goals for the new center include leading innovative community-based and clinical research that will benefit the health, independence and well-being of diverse aging adults and their caregivers; mentoring a new generation of nursing scholars and clinicians in gerontology; disseminating knowledge and strategies to promote well-being for older adults and their families; and advancing leadership that supports innovative, collaborative practice across care environments. Kavita Radhakrishnan, PhD, MSEE, RN, FAAN, associate professor, will serve as the new center's inaugural director.
"There is no greater satisfaction to us than to have a purpose driven life," Johnson said. "We have seen the problem seniors face in preserving wellness and addressing illness. We know we may become part of the problem our children's generation will face in addressing the health care needs for their elderly loved ones.
"We want to be part of the solution," she continued. "To have helped enhance the quality of life for those who have given us so much and to lighten the burden of our children is as satisfying a purpose as we could know."
Johnson and Turpin, who live in Austin, Texas, discovered that although this vibrant community is often thought of in terms of its youth, its greatest growth is occurring in its senior population.
"We have long thought that our generation was going to sink the health care delivery system for our children's generation," she said. "We feel we need to do our part to address this critical concern in our lifetimes."
While their mothers were financially secure with children who were well connected with the health care delivery system, Johnson and Turpin determined that the senior population was underserved, with a need for knowledgeable providers in geriatrics/gerontology.
"As we have aged, we have become increasingly aware that there is more of our lives in the rear-view mirrors than that which lies ahead," Johnson added.
"These factors and our life-long love of the UT Austin School of Nursing motivated us to make our gift to gerontological nursing now rather than later," she concluded. "Never did we ever dream that there would be a center named after us. We are thrilled, deeply honored and more committed than ever to see the School of Nursing rise up to meet these crucial concerns."