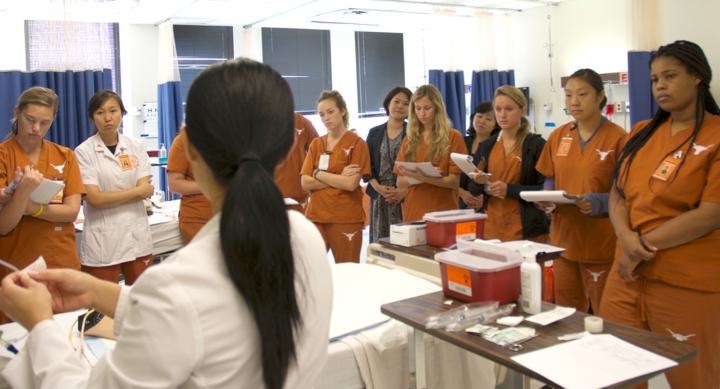 Application Deadline: October 1
Application Available: August 1
Program Start: Summer once a year only
Length of Program: 2.5 to 3 years full-time
Degree Awarded: Master of Science in Nursing
Part-Time Study Available? After the foundation (first) year

Distance Learning Available? Not at this time
AEMSN Information Sessions
If you have a bachelor's degree outside of Nursing, an Associate's Degree in Nursing and you are a licensed registered nurse please visit the Masters of Science in Nursing (MSN) Program.
---
About the AE-MSN
The Alternate Entry Master of Science in Nursing (AE-MSN) program is designed for people holding baccalaureate or graduate degrees in disciplines other than nursing and who are interested in pursuing both their Registered Nurse (RN) License and Master of Science in Nursing degree. After successfully completing the rigorous academic and clinical training, AE-MSN graduates are expected to assume entry-level positions and to advance rapidly in their nursing careers as they acquire experience in the field.
---
AE-MSN Concentration Areas
AE-MSN students can choose from one of the following concentration areas on which to focus:
Advanced Practice Nursing (APN): Visit Advance Practice Nursing to learn about APN programs.
---
AE-MSN Resources
Course of Study
The Foundation Year: The AE program is designed to satisfy RN licensure requirements and train students in advanced practice and specialty nursing roles. The first year of the program is an intensive, full-time series of foundation courses. The AE-MSN Foundation Year (Pre-Licensure) Courses (PDF) are accelerated, specially designed graduate courses. These courses include content and experiences that are required to take the National Council Licensure Examination for Registered Nurses (NCLEX-RN) and are required for graduate-level study in nursing. All foundation courses must be completed before students are eligible to take the NCLEX-RN licensure exam. The sequence of AE-MSN foundation courses begins in the first summer session of the program, and full-time enrollment during the foundation sequence is required.
Master's Coursework: After passing the NCLEX-RN and obtaining their RN license, students are eligible to work as an RN in Texas only. The second and third years of the program focus on the coursework required for the Master of Science in Nursing degree in the student's chosen concentration area. The MSN degree is typically awarded in the spring of the third year.
AE-MSN Objectives
The graduate of the master's in nursing degree program is expected to have acquired the following objectives:
Accept responsibility and accountability for practicing nursing at an advanced level.
Critically apply theoretical perspectives, teaching/learning principles, and evidence-based knowledge from nursing and related sciences to professional nursing practice in diverse health care environments.
Systematically and comprehensively investigate complex issues encountered in nursing practice to promote optimal health outcomes for diverse patients, families, and communities.
Advocate for patients, families, caregivers and communities to preserve health and to access healthcare services.
Propose and lead courses of action related to social, ethical, legal, economic, environmental, epidemiological, or policy issues that contribute to the delivery of safe quality health care.
Use advanced communications skills to optimize health and healthcare delivery.
Use relevant data and technology to inform advanced nursing practice to improve healthcare outcomes for individuals, families, communities, and systems.
Admission Requirements
All students interested in applying for graduate study in Nursing at the University of Texas at Austin must meet the admission requirements established by the University's Graduate School and the School of Nursing. Applicants are expected to be graduates of accredited colleges or universities. Below are the minimum requirements for admission.
Below are the minimum requirements for admission:
Degree: Bachelor's degree in an area other than Nursing.
GPA: 3.0 (4.0 scale) or comparable GPA in completed upper-division work (junior- and senior-level courses) and graduate work.
GRE: The Graduate Record Exam (GRE) taken within the last 5 years, is required for ALL applicants, there are no exceptions.
Recommendations: 3 required and 1 reference must be from a healthcare professional. Written recommendations are not accepted.
Prerequisites: Completion of AE-MSN Prerequisite Courses (PDF).  See pdf for completion time requirements and policies.
Statement of Purpose
Curriculum Vitae/resume
*Applicants to the AE-MSN program are encouraged to have volunteer or work experience in a healthcare related field.
Application Procedures
Any person applying for formal admission to the AEMSN program must submit the following application materials by the October 1 deadline.
Application for Admission
Complete online application for admissions and pay application fee at GoApplyTexas.org. The application is only open between August 1st and October 1st. The online application is data entry only. All supporting application documents are uploaded on the My Status page after the application is paid and submitted.
*Recommendation: Complete online application, at minimum, 2 weeks prior to the October 1 deadline. This allows time for all required documents to be completed and uploaded by the deadline.
Supporting Documents
Official transcripts, dated one year or less, from all four-year institutions attended.
Official transcripts, dated one year or less, from all community colleges where prerequisites were taken or currently taking. (See AE-MSN Application Checklist (PDF) for transcript upload procedures.)
Official Graduate Record Examination (GRE) scores taken within five years of the intended program start date. University code 6882, no department code required. (Recommendation: Complete the GRE exam by September 15 to ensure test score is uploaded by the Oct. 1st deadline.)
Curriculum Vitae: Readable font, 12-point, indicating educational background, professional experience, volunteer experience and other relevant information (e.g., publications, scholarship and awards, professional organizations, and community activities).
Personal Statement: Maximum two (2) pages. Readable font, 12-point, double spaced, 1-inch margins
Recommendation: 3 required / 3 maximum

Using our secure, personalized form, three (3) professional recommendations that attest to the applicant's academic ability, professional competency and personal character must be submitted electronically by each recommender.
One reference must be from a healthcare professional, a nurse, physician, nurse practitioner or clinical nurse specialist.
Written recommendations are not accepted.

Official TOEFL scores taken within the past two years (for International Applicants only).
Visit the Graduate and International Admissions Center (GIAC) for more information.
For additional details on how to prepare your graduate application materials and personal statement instructions, please view the AE-MSN Application Checklist (PDF).
All materials are to be submitted electronically to the My Status  page (available approximately 48 hours after online application submission) after completion of the application on GoApplyTexas.org.
Acceptance to Graduate Programs in Nursing
The School of Nursing Graduate Admissions and Progression Committee (GAPC) begin preliminary admission reviews after the October 1st deadline. All application materials are required to be submitted by the program's application deadline; files that remain incomplete will not be reviewed or acted upon by GAPC.
If admitted, applicants will be notified of the admission decision by early February. Decisions are communicated in the following ways:
Offers of admission are sent via email by the School of Nursing.
Official e-letters from the Graduate and International Admission Center notifying you of the admission decision of the Office of Graduate Studies are available on the application Status Check page.
Acceptance by both the School of Nursing and the Office of Graduate Studies are necessary before enrollment is permitted. Please be aware, if admitted, completion of all compliance requirements are required at least one month prior to the first day of class.
NOTE: Email is the official means of communication for all university business.
If not admitted, applicants will be notified by the Graduate and International Admission Center only.
Please email Graduate Student Services Office if you have questions about the admission process.
Forms/Documents
All files are in PDF format.