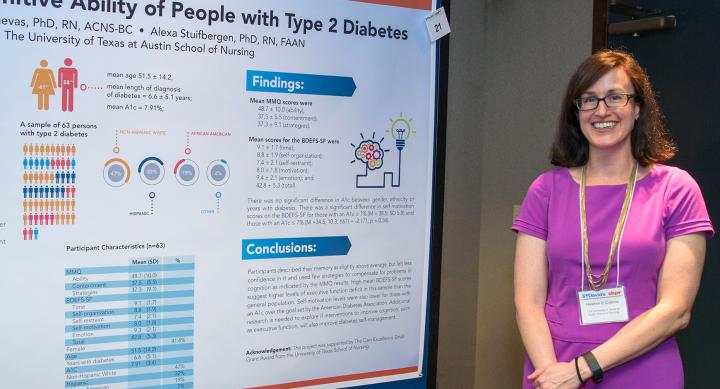 PhD Program Overview
Application Deadline: November 1 
Application Available: September 1 
Program Start: Fall, once a year only 
Length of Program: 4 years full-time 
Degree Awarded: Doctor of Philosophy 
Part-Time Study: YES 
Distance Learning: Not at this time
About the PhD
The University of Texas at Austin School of Nursing Doctoral program prepares students to become researchers and to assume advanced leadership roles in nursing and health care delivery. A combination of conceptual approaches, challenging interactions in seminar discussions, and work with active researchers produces a stimulating environment for scholarly development.
Each student selects a focus area based on their nursing background, interests, and goals. The focus area provides a broad structure for the student's individualized course of study. Courses from nursing and from non-nursing disciplines offer options for tailoring the program of study to a student's particular focus area. The program is designed to help students identify a dissertation topic, apply for research funding, and begin a lifelong research career.
PhD Resources
Course of Study

Program requirements for the PhD in Nursing include core courses and other courses to ensure preparation in a focused area of study. The PhD program prepares nurse researchers to make significant contributions to nursing knowledge and nursing practice through ongoing scientific inquiry and the dissemination of research findings.

Degree Plans (All files are in PDF format.)
Financial Support

There are various avenues for support during the doctoral program. Every student who applies by the November 1 deadline and is accepted into the PhD program, will be considered for a one-year Fellowship. Those applying after the November 1 deadline may also be considered for financial support. Monetary amounts range from $7,000 - $25,000, based on admission scores and full time/part time status. Competitive continuing fellowships are available after year one, based on timely academic progression and scholarly activities. Other small scholarship opportunities (usually $1,000-$2,000) may be available yearly through the School of Nursing. Doctoral students may work as Research Assistants, Teaching Assistants, and Assistant Instructors. These appointments have tuition and benefits assistance based on appointment hours/week.

Additionally, US citizen and permanent resident doctoral students can apply to the Nurse Faculty Loan Program (NFLP). The NFLP is a loan-cancellation program funded by the Health Resources and Services Administration (HRSA) Bureau of Health Professions. This program allows nursing schools to provide financial loans to students enrolled in advanced degree nursing programs and who intend to teach in a nursing program after graduation. This is not a need-based loan program; however, students must complete a FAFSA. For more information, visit UT Financial and Administrative Services - Nursing Faculty Loan Services page.
Highlights of the Doctoral Program

UT Austin offers unique opportunities for interdisciplinary study (doctoral portfolio programs) in fields such as gerontology, Mexican American studies, and women's studies.
Internationally recognized nursing faculty with over $10 million in NIH research funding.
Nursing faculty at UT Austin have diverse backgrounds in preparation and experience.
Thirteen of the current 26 graduate nursing faculty are Fellows in the prestigious American Academy of Nursing.
The doctoral program emphasizes development of a sound foundation in nursing science.
Participation in faculty research projects is an integral part of the doctoral program.
Admission Requirements

All students interested in applying for graduate study in Nursing at the University of Texas at Austin must meet the admission requirements established by the University's Graduate School and the School of Nursing. Applicants are expected to be graduates of accredited colleges or universities. Below are the minimum requirements for admission.

Degree: A bachelor's or a master's degree in nursing from an acceptable accredited program or a comparable degree from a foreign academic institution.
GPA: 3.0 (on a 4.0 scale) or comparable GPA in upper-division work (junior- and senior- level courses) and in any graduate work completed
**GRE: The Graduate Record Exam (GRE) taken within the last 5 years, is required for ALL applicants, there are no exceptions. 
**The GRE testing has temporarily been waived from the 2023.24 application process for Doctor of Philosophy in Nursing (PhD) program.
Recommendations: 3 required
Statement of Purpose
Curriculum Vitae/resume
Nursing License: Current RN licensure, if admitted.
Application Procedures

All students applying for formal admission to the Master's and PhD programs must complete the online application and submit the following application materials by the November 1 deadline.

Application for Admission

Complete online application for admissions and pay application fee at ApplyTexas.org. The application is only open between September 1st and November 1st. The online application is data entry only. All supporting application documents are uploaded on the My Status page after the application is paid and submitted.

*Recommendation: Complete online application, at minimum, 2 weeks prior to the November 1 deadline, ensuring all documents provided by the application deadline.

Supporting Documents

Official transcripts dated one year or less, from all four-year institutions attended.
Official transcripts dated one year or less, for Associates Degree in Nursing (ADN), if applicable. 

See AE-PhD Application Checklist (PDF) for transcript upload procedures.

**Official Graduate Record Examination (GRE) scores taken within five years of the intended program start date. University code 6882, no department code required. (Recommendation: Complete the GRE exam two weeks prior to the application deadline. **The GRE testing has temporarily been waived from the 2023.24 application process for Doctor of Philosophy in Nursing (PhD) program.
Curriculum Vitae/resume.
Personal Statement: Maximum two (2) pages. Readable font, 12-point, double spaced, 1-inch margins)
Recommendations: 3 required / 3 maximum

Using our secure, personalized form, three (3) professional recommendations that attest to the applicant's academic ability, professional competency and personal character must be submitted electronically by each recommender.
Written recommendations are not accepted.

Official TOEFL or IELTS scores taken within the past two years (for International Applicants only). 

See the International Students webpage for English language requirements.

For additional details on how to prepare your graduate application materials and personal statement instructions, please view PhD Application Checklist (PDF).

Visit the Graduate Admissions webpage for additional information.

All materials must be submitted electronically to the My Status Check page that is available approximately 48 hours after the ApplyTexas.org application submission.
Acceptance to Graduate Programs in Nursing

The School of Nursing Graduate Admissions and Progression Committee (GAPC) begin preliminary admission reviews after the November 1st deadline. All application materials are required to be submitted by the program's application deadline; files that remain incomplete will not be reviewed or acted upon by GAPC.

If admitted, applicants will be notified of the admission decision by March. Decisions are communicated in the following ways:

Offers of admission are sent via email by the School of Nursing.
Official e-letters from the Graduate and International Admission Center notifying you of the admission decision of the Office of Graduate Studies are available on the application Status Check page.

NOTE: Email is the official means of communication for all university business.

If not admitted, applicants will be notified by the GIAC only.

Please feel free to email Graduate Student Services Office if you have questions about the admission process.
Forms/Documents

All files are in PDF format.