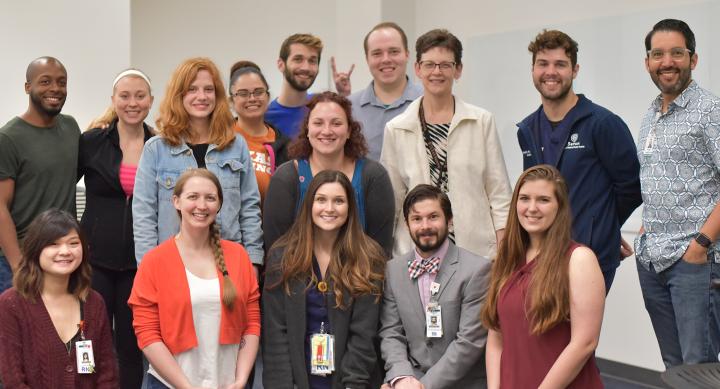 FNP, PMHNP, PCPNP, and AG-CNS Programs:
Application Deadline: November 1
Application Available: September 1
Program Start: Fall, once a year only
Length of Program: 1.5 - 2 years full-time (Post-MSN Certificate awarded upon completion)
Part-Time Study Available?: YES
Distance Learning Available?: Not at this time
ACPNP Program:
Application Deadline: November 1
Application Available: May 1
Program Start: Spring, once a year only
Length of Program: 4 consecutive semesters, part-time study (Post-MSN Certificate awarded upon completion)
Program Format: Hybrid
About the APRN Certificate Programs
The Advanced Practice Registered Nurse (APRN) certificate programs are designed for those nurses who have a master's in nursing or a Doctor of Nursing Practice (DNP) and wish to complete the course work necessary to sit for national certification as an APRN. Students choose a certificate track as a 1) Acute Care Pediatric Nurse Practitioner (AC PNP), 2) Adult Gerontology - Clinical Nurse Specialist (AG CNS), 3) Family Nurse Practitioner (FNP), 4) Primary Care Pediatric Nurse Practitioner (PC PNP) or 5) Psych/Mental Health Nurse Practitioner (PMHNP). Students in the APRN Certificate Programs will complete the didactic and clinical hours necessary to take the national exam in their specialty area. They will not, however, earn a second graduate degree.
In addition to the required courses, clinical rotations are a critical part of the APRN curriculum at UT Austin School of Nursing.  The clinical placement student services team works collaboratively with the program faculty to find and assign preceptors and clinical sites for all students.  Faculty evaluate both the clinical sites and preceptors to verify that clinical experiences are consistent with course and certification requirements, ensuring students have a productive clinical experience.
Advanced Practice Nursing (APN): Visit Advance Practice Nursing to learn about APN programs.
PMSN Certificate Areas
MSN students can choose from one of the following concentration areas on which to focus:
APRN Resources
Below you will find a list of APRN resources. Click on each title for more information.
Admission Requirements

All students interested in applying for graduate study in Nursing at the University of Texas at Austin must meet the admission requirements established by the University's Graduate School and the School of Nursing. Applicants are expected to be graduates of accredited colleges or universities. Below are the minimum requirements for admission.

Degree: Master of Science in Nursing or a Doctor of Nursing Practice degree from an accredited institution and all applicants must have a bachelor's degree from an accredited institution.
GPA: 3.0 (on a 4.0 scale) or comparable GPA in upper-division work (junior- and senior- level courses) and in any graduate course work completed
Recommendations: 3 required
Statement of Purpose
Curriculum Vitae/resume
Nursing License: Current Texas RN licensure or a multi-state license from "Nurse Licensure Compact" state, if admitted.
RN Experience Required: FNP and AC PNP – two years full time experience by the November 1st application deadline.
APN Certification Required: AC PNP - must have current licensure and certification as an advanced practice provider in another specialty.
RN Experience Recommended: PC PNP - one year of pediatric nursing experience is by the November 1st application deadline

*Graduate Record Exam (GRE) is not required.
Application Procedures

All students applying for admission to the Advanced Practice Certificate programs must complete the online application and submit the following application materials by the November 1 deadline.

Application for Admission

Complete online application for admissions and pay application fee at GoApplyTexas.org. The application is only open between September 1st and November 1st. The online application is data entry only. All supporting application documents are uploaded on the My Status page after the application is paid and submitted.

*Recommendation: Complete online application, at minimum, 2 weeks prior to the November 1 deadline. This allows time for all required documents to be completed and uploaded by the deadline.

Supporting Documents

Official transcripts, dated one year or less, from all four-year institutions attended.
Official transcripts, dated one year or less, for Associates Degree in Nursing (ADN), if applicable. See Post-MSN Certificate Application Checklist for transcript upload procedures.
Curriculum Vitae: Readable font, 12-point, double spaced, 1-inch margins
Personal Statement: Maximum two (2) pages. Readable font, 12-point, double spaced, 1-inch margins
Recommendations: 3 required / 3 maximum

Using our secure, personalized form, three (3) professional recommendations that attest to the applicant's academic ability, professional competency and personal character must be submitted electronically by each recommender. 
Written recommendations are not accepted.

Official TOEFL scores taken within the past two years (for International Applicants only).

For additional details on how to prepare your graduate application materials and personal statement instructions, please view Post-MSN Certificate Application Checklist (PDF).

All materials are to be submitted electronically to the My Status Check (available approximately two days after online application submission) after completion of the application on GoApplyTexas.org.
Acceptance to Graduate Programs in Nursing

The School of Nursing Graduate Admissions and Progression Committee (GAPC) begin preliminary admission reviews after the November 1st deadline. All application materials are required to be submitted by the program's application deadline; files that remain incomplete will not be reviewed or acted upon by GAPC.

If admitted, applicants will be notified of the admission decision by ​early January for the ACPNP program and early March​ for all other programs. Decisions are communicated in the following ways:

Offers of admission are sent via email by the School of Nursing.
Official e-letters from the Graduate and International Admission Center notifying you of the admission decision of the Office of Graduate Studies are available on the application Status Check page.

Acceptance by both the School of Nursing and the Office of Graduate Studies are necessary before enrollment is permitted. Please be aware, if admitted, completion of all compliance requirements are required at least one month prior to the first day of class.

NOTE: Email is the official means of communication for all university business.

If not admitted, applicants will be notified by the GIAC only.

Please feel free to email Graduate Student Services Office if you have questions about the admission process.
Financial Support

Certificate program students needing financial assistance are eligible for federal financial aid and may be eligible for private education loans. Private loans are available from various lending institutions (e.g. banks, credit unions, etc.). The university is prohibited by federal law from recommending any particular private loans to certificate program students, but we encourage you to shop competitively before choosing a particular private loan to help meet educational expenses. The interest rates on these loans vary, as do other terms and conditions. Also, most private lenders require loan certification from the school in order to verify enrollment and Cost of Attendance amounts. Click here for more information about loans.

The median amount of debt for students completing the program is shown below:

Private education loans*
Institutional financing plan*

Note: There were fewer than 10 graduate students in each certificate program. Median amounts are withheld to preserve the confidentiality of graduates

For more details about the University of Texas at Austin tuition, please visit the UT Tuition.