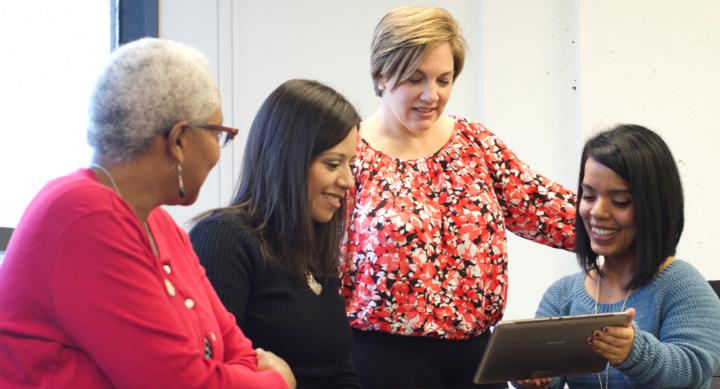 Application Available: September 1 
Program Start: Fall, once a year only 
Length of Program: 5 consecutive semesters/terms 
Degree Awarded: Doctor of Nursing Practice 
Program Delivery: Hybrid
---
About the DNP
The American Association of Colleges of Nursing (AACN) first identified the need over fifteen years ago for a practice doctorate for advanced practice nursing due to the growing complexity of the health care system, the growth in scientific knowledge and sophisticated technology, and the need for clinical career paths which would attract outstanding students and retain nurses in a clinical career in nursing. The Institute of Medicine's report on The Future of Nursing: Leading Change, Advancing Health (2010) affirmed this need by recommending doubling the number of doctoral prepared (PhD and DNP) nurses by 2020 to add to the cadre of nurse faculty and researchers with attention to increasing diversity. Thus, the Doctor of Nursing Practice (DNP) was developed to meet the demand for practitioners able to practice and to provide leadership at the highest levels of healthcare and to meet the demand for highly prepared clinical faculty for schools of nursing.
---
DNP Resources
Goals for DNP Program
Provide the highest level of professional nursing education for nurses, via a terminal degree in nursing practice (DNP), which advances the education and leadership competencies of nurses in Central Texas, preparing graduates for increasingly complex practice and clinical leadership roles
Prepare DNP graduates to assume leadership roles to deliver the highest quality patient- centered care as members of interdisciplinary teams, emphasizing evidence-based practice, patient safety, quality improvement approaches and informatics
Address the nursing faculty shortage by encouraging doctoral prepared clinical nursing graduates to pursue academic roles as faculty in schools of nursing across the state
DNP Objectives
DNP Objectives, based on the AACN Essentials of Doctoral Education (2006), are designed to prepare graduates to:
Integrate nursing science with knowledge from ethics, biophysical, psychosocial, analytical, and organizational sciences to advance health and health care delivery systems (Essential 1)
Develop and operationalize effective, culturally relevant, and evidence-based care delivery approaches that meet current and future needs of diverse patient populations (Essential 2)
Design and implement scholarly evidence-based processes to analyze and improve outcomes of care at the practice, health care organization, or population levels (Essential 3)
Select, use, and evaluate health care information systems and patient care technology to advance quality, patient safety and organizational effectiveness (Essential 4)
Exercise leadership to analyze, develop, influence and implement health policies that advocate social justice, equity, and ethics within all health care arenas (Essential 5)
Employ interprofessional team building and collaborative leadership skills to create positive change and improve outcomes in complex healthcare systems (Essential 6)
Analyze epidemiological, biostatistical, environmental, and other appropriate scientific data to develop culturally relevant and scientifically based health promotion and disease prevention initiatives (Essential 7)
Employ advanced levels of clinical judgment, systems thinking, and accountability to design, deliver, and evaluate evidence-based care to improve patient, population and health system outcomes (Essential 8)
Course of Study
The 45-hour curriculum for the DNP program is based on the Essentials of Doctoral Education for Advanced Practice developed by the American Association of Colleges of Nursing and addresses all the required competencies. Courses include philosophy and scientific methods in nursing science, policy, management of health services organizations, health economics, epidemiology and health sciences information systems. All students take nine hours of core courses in the first semester in the program. The first semester in the program is followed by 24 hours of supporting courses that can be taken in any order. Additionally, 12 hours of clinical specialization courses (500 clinical practice hours) are taken in sequential order after the first semester in the program. Within these clinical specialization seminars students identify and develop practice expertise in a focused clinical area that culminates in the DNP Scholarly Project. Students who have not completed 500 practice hours as part of their MSN need to complete clinical practice hours in addition to the 500 practice hours in the clinical specialization courses. Students may also elect to complete an optional focus in nursing education (three courses).
Program Delivery
The DNP program is delivered using a hybrid format. Classes meet on-campus once a month throughout each semester. These on-campus classes occur monthly on two consecutive days with online assignments during the alternate weeks.
Curriculum: The DNP program curriculum is designed to provide the highest level of professional nursing education for nurses, via a terminal degree in nursing practice. The curriculum advances the education and leadership competencies of nurses and prepares graduates for increasingly complex practice and clinical leadership roles.
DNP Focus Areas: The DNP program focuses on mentorship for development of an individualized area of clinical leadership specialization and dissemination of scholarly work via publications and presentations. Students may also choose to take additional electives in nursing education and teaching. The DNP is now the terminal degree in nursing for practice excellence. Since more than half of the curriculum in schools of nursing is 'practice oriented', it is logical that nurses with the terminal degree in nursing practice would be appropriate educators for the practice components of the curriculum. The clinical teaching electives are designed to meet the growing demand for highly prepared clinical faculty for schools of nursing.
Highlights of the DNP Program
Internationally recognized nursing faculty with over $13 million in NIH research funding.
Nursing faculty at UT Austin have diverse backgrounds in preparation and experience.
Thirteen of the current 26 graduate nursing faculty are Fellows in the prestigious American Academy of Nursing.
The Doctor of Nursing Practice program emphasizes development of a sound foundation in nursing practice.
Publication Highlights of UT Austin DNP graduates from 2018-present.
Perceptions of disaster management knowledge and skills among advanced practice registered nurses. 
Fil, Samantha L; Champion, Jane Dimmitt; Christiansen, Brittany 
ISSN: 2327-6924 , 2327-6924; DOI: 10.1097/JXX.0000000000000382 
J Am Assoc Nurse Pract , 2020
Creating inclusive health care environments: Health care stories from the trans population.  
Daly, Amy; Champion, Jane Dimmitt 
ISSN: 2327-6924 , 2327-6924; DOI: 10.1097/JXX.0000000000000383 
J Am Assoc Nurse Pract , 2020
Outcomes of Depression Screening for Adolescents Accessing Pediatric Primary Care-Based Services.  
Chowdhury, Taskina; Champion, Jane Dimmitt 
ISSN: 0882-5963 , 1532-8449; DOI: 10.1016/j.pedn.2020.02.036 
Journal of pediatric nursing. , 2020, Vol.52, p.25-29
Psychotropic Medication Prescribing Practice Among Residents With Dementia in Nursing Homes: A Person-Centered Care Approach.  
Basnet, Prasanna; Acton, Gayle J; Requeijo, Paula 
ISSN: 0098-9134 , 1938-243X; DOI: 10.3928/00989134-20200108-01 
Journal of gerontological nursing. , 2020, Vol.46(2), p.9-17
Assessment of Gestational Diabetes Mellitus Outcomes for Hispanic Women Living in the Rio Grande Valley. 
Somohano-Mendiola N, Champion JD, Vatcheva K. Hisp Health Care Int. 2019 Sep;17(3):111-117. doi: 10.1177/1540415319833996. Epub 2019 Mar 28. PMID: 30922188
Does treatment of urinary tract infections reflect the antibiotic stewardship program guidelines? Bista B, Champion JD. J Am Assoc Nurse Pract. 2019 Dec;31(12):693-698. doi: 10.1097/JXX.0000000000000204. PMID: 30908406
Perceived Mental Healthcare Barriers and Health-seeking Behavior of African-American Caregivers of Adolescents with Mental Health Disorders.  
Jon-Ubabuco N, Dimmitt Champion J. Issues Ment Health Nurs. 2019 Jul;40(7):585-592. doi: 10.1080/01612840.2018.1547803. Epub 2019 Mar 27. PMID: 30917089
Relationships among factors affecting advanced practice registered nurses' job satisfaction and intent to leave: A systematic review.  
Han RM, Carter P, Champion JD. J Am Assoc Nurse Pract. 2018 Feb;30(2):101-113. doi: 10.1097/JXX.0000000000000006. PMID: 29757821
Outcomes of Depression Screening Among Adolescents Accessing School-based Pediatric Primary Care Clinic Services. 
Bhatta S, Champion JD, Young C, Loika E. J Pediatr Nurs. 2018 Jan-Feb;38:8-14. doi: 10.1016/j.pedn.2017.10.001. Epub 2017 Oct 13. PMID: 29167086
Examining Doctor of Nursing Practice Clinical Competency. 
Christiansen, B., & Champion, J.D. The journal for nurse practitioners. , 2018, Vol.14(5), p.e93 
ISSN: 1555-4155 , 1878-058X
Assessing the Needs of Oncology APRN Preceptors. 
Bazzell, Angela F.; Jones, Terry; Dains, Joyce E.; Champion, Jane D.; Journal for Nurse Practitioners, Apr2018; 14(4): 296-301. 6p. (Article) ISSN: 1555-4155
Radiologic Imaging Content in Family Nurse Practitioner Programs: A Needs Assessment. 
Kirkland, Stephanie A.; Champion, Jane Dimmitt; Journal for Nurse Practitioners, Mar2018; 14(3): e63-e66. 4p. (Article - research) ISSN: 1555-4155
Admission Requirements
All students interested in applying for graduate study in Nursing at the University of Texas at Austin must meet the minimum admission requirements established by the University's Graduate School and the School of Nursing. Applicants are expected to be graduates of accredited colleges or universities. Below are the minimum admission requirements for School of Nursing.
Degree: A master's degree in nursing from an acceptable, accredited program or equivalent graduate degree.
GPA: 3.0 (on a 4.0 scale) or comparable GPA in upper-division work (junior- and senior- level courses) and in any graduate work completed
GRE: The Graduate Record Exam (GRE) taken within the last 5 years. GRE waiver is applicable if the applicant meets the following requirements:

MSN cumulative GPA 3.25 or higher
3+ years professional nursing leadership

Recommendations: 3 required
Statement of Purpose
Curriculum Vitae/resume
Work Experience: 18 months of professional RN work experience
Nursing License: Current Texas RN licensure or a license from "Nurse Licensure Compact" state, if admitted.
Contact DNP coordinator for details.
Application Procedures
All students applying for formal admission to the DNP program must complete the online application and submit the following application materials.
Application for Admission
Complete online application for admissions and pay application fee at GoApplyTexas.org. The online application is data entry only. All supporting application documents are uploaded on the My Status page after the application is paid and submitted.
Supporting Documents
Official transcripts, dated one year or less, from all four-year institutions attended.
Official transcripts, dated one year or less, for Associates Degree in Nursing (ADN), if applicable.
Official Graduate Record Examination (GRE) scores taken within five years of the intended program start date. University code 6882, no department code required.

GRE waiver- see details above under admission requirements.

Curriculum Vitae: Readable font, 12-point, double spaced, 1-inch margins
Personal Statement: Maximum two (2) pages. Readable font, 12-point, double spaced, 1-inch margins.
Recommendations: 3 required / 3 maximum

Using our secure, personalized form, three (3) professional recommendations that attest to the applicant's academic ability, professional competency and personal character must be submitted electronically by each recommender.
Written recommendations are not accepted.
For additional details on how to prepare your graduate application materials and personal statement instructions, please view DNP Application Checklist (PDF).
Upon application completion visit My Status Check web page to upload application documents and to track progress of your application status.
Tuition and Fees
DNP program costs include 9 credit hours @ $6,000 per semester for 5 consecutive semesters. Total DNP program cost for 45 credit hours is $30,000.
Tuition and Fees for the DNP Program
Semester
Hours
Semester Total
Fall 1
9
$6,000
Spring 1
9
$6,000
Summer 1
9
$6,000
Fall 2
9
$6,000
Spring 2
9
$6,000
 
45*
Total Program Cost: $30,000*
Liability Insurance per year:
$15
$65
*Total credit hours & cost varies dependent upon the number of clinical hours obtained during completion of graduate education.
The DNP program is delivered in a hybrid (on-line/on-campus) format. Students meet on-campus once a month for 2 consecutive days; other program content is delivered on-line. This hybrid format provides students the opportunity to maintain full-time employment while completing the DNP program.
The DNP program tuition does not include any out-of-state or international tuition.
DNP students are eligible for federal student loans. Students are encouraged to apply for federal financial aid at FAFSA. You may contact the Office of Scholarships and Financial Aid for additional information and requirements.
Financial Support
DNP students needing financial assistance are eligible for the following aid:
Federal financial aid as well as private education loans. Private loans are available from various lending institutions (e.g. banks, credit unions, etc.). The university is prohibited by federal law from recommending any particular private loans to certificate program students, but we encourage you to shop competitively before choosing a particular private loan to help meet educational expenses. The interest rates on these loans vary, as do other terms and conditions. Click here for more information about loans.
Nurse Faculty Loan Program (NFLP) is a loan-cancellation program funded by the Health Resources and Services Administration (HRSA) Bureau of Health Professions. This program allows nursing schools to provide financial loans to students enrolled in advanced degree nursing programs and who intend to teach in a nursing program after graduation. This is not a need-based loan program; however, students must complete a FAFSA. For more information, visit UT Financial and Administrative Services - Nursing Faculty Loan Services page.
Acceptance to Graduate Programs in Nursing
The School of Nursing Graduate Admissions and Progression Committee (GAPC) may begin preliminary admission reviews as soon as an applicant's file is complete; however, admission decisions are not made until after the program's application deadline. All application materials are required to be submitted by the program's application deadline; files that remain incomplete will not be reviewed or acted upon by GAPC.
If admitted, applicants will be notified of the admission decision the following ways:
Offers of admission are sent via email by the School of Nursing.
Official e-letters from the Graduate and International Admission Center notifying you of the admission decision of the Office of Graduate Studies are available on the application Status Check page.
Acceptance by both the School of Nursing and the Office of Graduate Studies is are necessary before enrollment is permitted. Please be aware, if admitted, completion of all compliance requirements is required at least one month prior to the first day of class.
If not admitted, applicants will be notified by GIAC only.
NOTE: Email is the official means of communication for all university business.
If you have questions concerning DNP admissions or the DNP program contact Asst. Director of Graduate Academic Services Tracy Demchuk, Bed, M.A. or DNP Program Director, Jane Dimmitt Champion, PhD, DNP, FAANP, FAAN.
Forms/Documents
All files are in PDF format.