Please visit our AMEN Resources page to access additional resources on mental health, substance use, screening and intervention tools, and patient education materials.
Trainings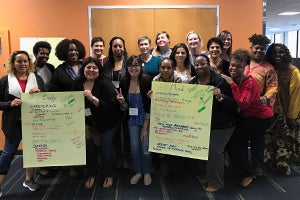 Motivational Interviewing/Self-Care Training for CHWs (01/15/2020): The University of Texas at Austin School of Nursing and Cardea facilitated a free training on Motivational Interviewing and Self-Care for CHWs. The most common feedback from participating CHWs is that they will continue to practice these MI skills by using open questions and reflections to listen to their clients more and provide less [unsolicited] advice. Concurrently, they anticipate using a self-care plan to reduce stress and maintain better health and well-being. Please access the below training materials:
Austin Public Health (07/1/2019 - 06/30/2020): Based on findings from our CHW workforce analysis, we are developing new CHW training, both online and face-to-face, to meet the growing public health needs in underserved communities. This work is being done in further partnership with Cardea Services. All training content will address cultural, gender, and linguistic congruency; health literacy; and will provide Texas DSHS approved CHW CEUs.
St. David's Foundation Opportunity Grant (10/01/2017 - 09/30/2019): In collaboration with Cardea Services, we received funding to develop free, online CHW CEUs (6-9 credits focused on women's health in rural areas) that are certified by Texas Department of State Health Services (DSHS). This free online education aims to increase employability of CHWs by helping them build culturally and linguistically relevant specialty knowledge and skills. Women in rural areas, a hard to reach population, benefit by interacting with well-prepared CHWs who can provide timely information on disease prevention, self-management, health care options, and linkages to needed services. 
Online Continuing Education Trainings:
---
Digital Tools