Audrey M. Decherd, MSN, RN, CCRN

Recipients of 2018 Rising Star Alumni Award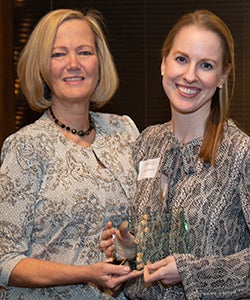 In 2009, Audrey received a bachelor's degree from Vanderbilt in Spanish linguistics but became interested in nursing after going through a traumatic event with a loved one. While walking in her neighborhood on a Saturday morning, her mother was struck by a car and suffered a traumatic brain injury. Audrey was often by her bedside during the three months her mother was in intensive care. It would be another five months before her mother finally came home.
"Everything the nurses and doctors said, I soaked up like a sponge and wanted to know more. Something ignited inside me, and I knew that this is where I belonged," she said.
Audrey enrolled in the Alternate Entry Master's in Nursing program and today, she is a nurse at Baylor University Medical Center in Dallas in the neonatal ICU.
Prior to that, she was a certified CCRN staff nurse in Baylor University Medical Center's neurosciences Intensive Care Unit, where, in addition to other duties, she coached many newly hired graduate nurses and precepted student nurses from schools of nursing across North Texas.
Audrey is a member of Leadership Dallas, a professional development program for civic-minded young professionals in the Dallas area. She serves on the board of directors of Educational First Steps, an organization that helps existing North Texas childcare centers in at-risk neighborhoods achieve national accreditation, and The Decherd Foundation, her family's foundation that supports organizations primarily in the fields of education, medicine and urban planning. Audrey is also a member of the School of Nursing Advisory Council.