Lisa Dugger, MSN, APRN

Recipient of 2013 Rising Star Alumni Award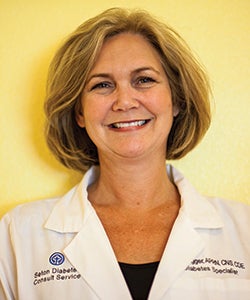 Lisa Dugger is project director and team leader as well as inpatient diabetes program manager at the Seton Family of Hospitals in Austin. She is a clinical expert in diabetes and has worked in diabetes education since 2002, focusing on improving diabetes care and outcomes for her patients. After graduating from UT Austin School of Nursing in 2012, Lisa received a $13.5 million grant from the Texas Health and Human Services Commission as part of the Texas Health Care Transformation and Quality Improvement Program to develop and implement a process that effectively decreases hospital readmission rates of diabetics in health-care settings and across the continuum of care. Lisa belongs to the American Association of Diabetes Educators, the American Nurses Association, the American Diabetes Association and the National Association of Clinical Nurse Specialists.