Jessica Ruiz, MSN, RN

Recipient of 2015 Rising Star Alumni Award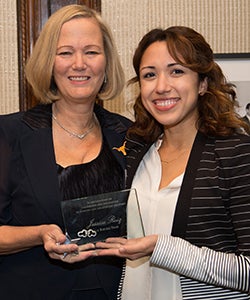 Jessica is chief quality officer at Stonegate Pharmacies in Austin, Texas. In 2013 she was nationally certified as a Nurse Executive, Advanced, by American Nurses Credentialing Center. Jessica has worked in a variety of health care organizations and achieved successive promotions due to her work ethic, integrity, knowledge and responsibility. She currently serves on the TEXAS TEAM, a state action coalition to promote the Future of Nursing Report, where she served as the Texas TEAM long-term care champion. Jessica was also appointed to a Texas Board of Nursing taskforce to study implications of the growth of nursing education programs in Texas.
Jessica received her bachelor's in nursing degree in 2008 and master's in nursing degree in 2011 from the UT Austin School of Nursing. She was the outstanding BSN graduate at the School of Nursing in 2008.