Elise Chabot, BSN, RN

Recipient of 2015 Rising Star Alumni Award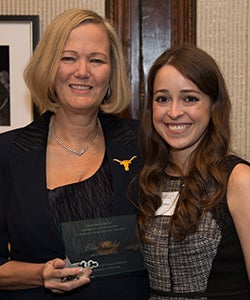 Elise is a cardiac care nurse at Texas Children's Hospital in Houston, Texas, where she works in both acute and step-down care. Prior to that, she completed a residency program as a perioperative nurse at Children's Memorial Hermann Hospital in Houston. She recently completed the requirements for certification as an infant massage instructor and teaches families about infant massage as well as how to support and love their babies through nurturing touch. Elise is a member of the education committee and H.E.A.R.T. committee at Texas Children's and belongs to the Society of Pediatric Nurses.
Elise received her bachelor's in nursing degree from the UT Austin School of Nursing in 2011. She received the Daisy Award for Extraordinary Nurses Recipient in March 2014 and is a member of Sigma Theta Tau Honor Society of Nursing, the Phi Kappa Phi Honors Society, the National Scholars Honor Society and was a Distinguished UT Austin College Scholar in 2011.