La Tashia Kiel, RN, MSN

Recipients of 2017 Rising Star Alumni Award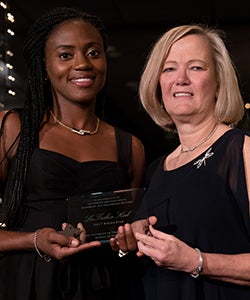 La Tashia received her Bachelor of Science in Nursing from UT Austin in 2007, her Master of Science in Nursing from UT Austin in 2014 and is currently enrolled in the Doctor of Nursing practice program. She has been an instructor in clinical nursing at the School of Nursing since August 2016.
While she was an undergraduate student, La Tashia was also an athlete on the UT Austin women's track and field team from 2002 to 2006. Starting her junior year, she became captain and helped lead the team to two National Championships.
A few years ago, La Tashia and her husband George founded the Kiel Colon Cancer Foundation, a nonprofit organization created to address colon cancer through education, public outreach, and research, after George's mother Debra Kiel died of the disease in 2014 at the age of 57.
The Kiels are especially concerned about the growing number of young people being diagnosed with colorectal cancer each year and sponsor many popular athletic events throughout the year in order to speak to this population about their risk of getting the disease.
The Kiel Colon Cancer Foundation has been so successful in raising awareness that it recently received the 2017 David Jagelman, MD, Award for Advocacy in Colorectal Cancer from the American Society of Colon and Rectal Surgeons, an organization dedicated to advancing and promoting the science and practice of the treatment of patients with colorectal diseases.