Brennan Parmelee MSN, RN, CPN, CNE

Recipient of 2016 Rising Star Alumni Award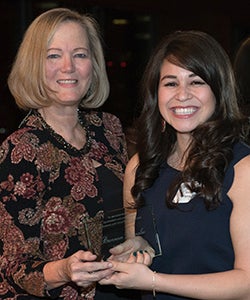 Brennan is a nurse in pediatric hematology/oncology/stem cell transplant at Houston Methodist Hospital in the Texas Medical Center. She received her Bachelor of Science in nursing degree from UT Austin in 2013 and an MSN in Nursing Education at Duke University.
Brennan taught nursing for pre-licensure students in Tanzania, Africa, as her capstone in education. Afterwards, she became a stem cell transplant coordinator at Houston Methodist Hospital in the Texas Medical Center. She is active in her community, serving in positions such as publicity chair for Sigma Theta Tau-Epsilon Theta Chapter and hosting swab drives with Be the Match and Delete Blood Cancer.
Brennan was awarded first place this year for the Magnet Recognition Program competition by Houston Methodist. The Magnet Recognition Program recognizes health care organizations for quality patient care, nursing excellence and innovations in professional nursing practice.
She currently serves on the board of leaders for the American Nurses Credentialing Center Magnet Hospital programming and has begun a doctoral program at the UT Health Science Center in Houston. She plans to focus her research on improving outcomes in hematopoietic stem cell transplant recipients and quality of life at the end-of-life.