'The More You Give, the More You Get Back' - O
ne Couple's Story
Mary Virginia Jacobs could tell Trina Sommerlatte was special from the moment the young nurse walked into her husband's hospital room. She just had no idea how special.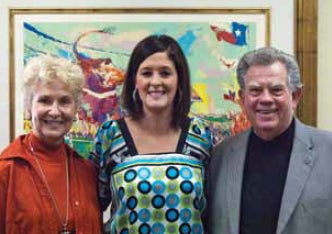 It was Thanksgiving weekend 2009. From the moment the two women met they shared an important interest: the health of Claud Jacobs, who was recovering from heart surgery at Citizens Medical Center in Victoria, Texas. They shared a profession, too: Mary Virginia was a retired nurse. They even shared an alma mater: The University of Texas at Austin.
But there was one more bond that nobody suspected. It was the reason the Jacobses looked so familiar to Trina that day. At first the 2007 School of Nursing graduate thought she had cared for Claud before. Or maybe it was Mary Virginia. They said no, but Trina persisted. "Names don't ring a bell, but faces I usually remember," she says.
Puzzled, the three speculated about mutual friends before it came to them — they had met at UT Austin in 2005. The occasion: a luncheon honoring scholarship donors and recipients. The Jacobses had donated money for a nursing scholarship; Trina had received one. But Trina hadn't received just any scholarship. She had received the Jacobses' scholarship.
The couple had stepped into the future and prepared their own nurse.
"You can give scholarships all your life and never know what they can mean down the road," Claud says. "Here my life was on the line, and that person who I helped to get an education was taking care of me. It doesn't get any better than that."
The next visitor to Claud's hospital room walked in on the couple crying. "I still cry," Mary Virginia says. Claud, too, gets teary at the memory. "It's emotional," he says. "You could live a lifetime and never have an opportunity like this."
The possibility of getting something in return for their gift had never crossed the Jacobses' minds. Rather, the Florence Nightingale Memorial Scholarship was a tribute to Mary Virginia's mother, Florence Nightingale Moses Mason, who had always wanted to be a nurse but never got the chance. Creating a nursing scholarship at UT made sense, especially considering that three generations of Mary Virginia's family — her grandparents, her parents, and she and Claud — had met at the University.
Mary Virginia studied nursing at UT before transferring to San Antonio's Incarnate Word College, where she earned a bachelor of science in nursing in 1966. She later returned to UT, earning a master's in nursing in 1980. She worked as both a nurse practitioner and nurse educator before retiring in 2004.
Mary Virginia and Claud had met on a blind date in 1963. She was a UT sophomore, and he was a senior. They wed in 1964, the same year Claud received his BBA from UT. He now owns a financial-planning firm in Victoria and an insurance agency in Yoakum.
The Jacobses live in Victoria; Trina in nearby Hallettsville. All three are Texas Exes Life Members. By the time their paths converged at Citizens Medical Center, Mary Virginia had already retired. But, as she discovered during Claud's hospital stay, old habits die hard. "I can't ever stop being a nursing instructor," she says. "You look at how people do things and you check it."
None of Claud's nurses escaped her scrutiny, and some performed better than others. Trina was a standout from the beginning. She walked into the room with confidence, and she washed her hands even before Mary Virginia could ask. She spoke to Claud before treating him, explaining what she would do. And her technical skills were spot-on. "I turned to Claud and I said, 'That girl knows what she's doing,' " Mary Virginia recalls.
Claud's experience with Trina reinforced something he already knew. "I'm a firm believer that the more you give, the more you get back," he says. "All the time."
---
Acknowledgment   
Article By Angela Curtis and originally published on UT News., January 6, 2012 .
Donor Spotlight
Jeff Petter­son, 2022  
Luci Baines Johnson and Ian Turpin, 2021  
Jeff and Kim Chapman, 2020  
Maureen and Robert Decherd, 2020  
Luci Baines Johnson and Ian Turpin, 2020  
John Chamberlain, 2019  
Luci Baines Johnson, 2018  
Earl and Myrtle Walker, 2018  
Mary Lou Adams, 2017  
Audrey Decherd, 2016  
John and David Chamberlain, 2014  
Julie Bailey, 2013  
Pat Blandford, 2012  
Mary Virginia Jacobs and Claud Jacobs, 2011
---