A Family Affair — Giving is a way of life for these brothers and their aunt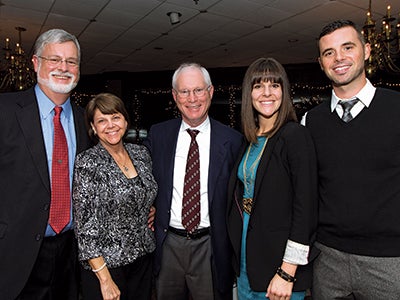 John Chamberlain is an Aggie. So is his brother David. In fact, John and David are members of three generations that have graduated from Texas A&M. You could say the whole family bleeds maroon. That's why the brothers — along with their Aunt Lou, a Baylor grad — recently established an endowment for The University of Texas at Austin School of Nursing.
That may boggle the mind, but it shouldn't. The brothers were taught at their mother's knee the value of giving to others and trying to make the world a better place. "It starts with the way I was brought up," John said. "I was taught that our talents and money should be used to help others. My parents were generous donors, and as I grew older, I began to think of areas where I could help."
This story begins with their mother, Barbara Hall Chamberlain, who received her nursing diploma from Allentown Hospital in Pennsylvania in September 1941, just before the United States entered World War II. The following June, she enlisted in the U.S. Army Nurse Corps and served in Maryland as an operating room and general duty nurse. While still in Maryland, she met Army Lieutenant Nugent Chamberlain, a recent A&M graduate, and by October 1943, they were married.
Only a few days later, Nugent was shipped to the Pacific, where he eventually participated in the invasions of Iwo Jima and Okinawa. Barbara was assigned to a military hospital in Topeka, Kansas, where she assisted surgeons who operated on seriously wounded soldiers, many of whom had served under General George S. Patton.
With the war's end, the couple was able to put down roots in Baytown, Texas, where Nugent worked as a research chemist for Humble Oil and Refining Company (later Exxon USA). Barbara chose not to return to nursing, but retained her license and frequently volunteered at a local hospital. They reared three sons: John, Scott and David. Following in their father's footsteps, the eldest and youngest graduated from Texas A&M, but Scott got his degree in government from UT Austin. John also eventually succumbed to the lure of the Longhorns and graduated from UT Austin's Law School.
The family thrived and over the years, Barbara and Nugent made generous donations to various charities and funded four-year scholarships for A&M students. In 2009, John, David and their mother established an endowment in UT Austin's College of Liberal Arts in memory of Scott, who had died the previous year, to honor his love for the university.
Today, John and David are retired, but the generosity continues. Following their mother's death in 2011, the bothers and their aunt, Emmie Lou Boston, who had loved Barbara like a sister rather than a sister-in-law, decided to honor Barbara's influence on their lives by establishing an endowment in her name.
"Our mother played a key part in our lives," John said. "She never attended UT Austin, but we had heard great things about the School of Nursing, so it seemed like a good idea to help educate student nurses."
In November 2013, the School of Nursing hosted Fall Celebration, a dinner to honor outstanding alumni and to say thank you to generous donors. John and David, along with David's wife, Colleen, and daughter Katy, were among the guests.
"It's fair to say that our decision to donate to the School of Nursing was prompted by our mother being a nurse; it was the result of that personal connection," John said. "And we chose UT Austin School of Nursing because of its reputation. After speaking to faculty members at the Fall Celebration and hearing about the importance of educating and equipping nurses to meet the health care needs of the future, I know it was the right thing to do."