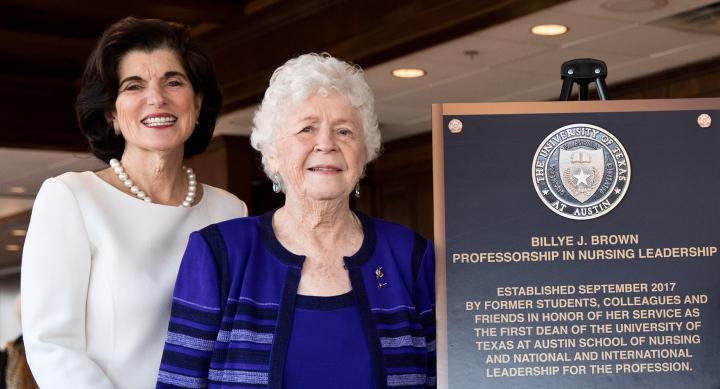 Luci Baines Johnson — A Lifetime of Support for the Nursing Profession
You may know her as the second daughter of former President Lyndon Baines Johnson and First Lady, Lady Bird Johnson, but Luci Baines Johnson is a force of nature in her own right. And her belief in nursing, and connection to the University of Texas at Austin School of Nursing in particular, is long-standing and constant.
"I've known Luci for a very long time," said Billye Brown, the first dean of the School of Nursing. "She first served as chairperson of the UT System School of Nursing's Advisory Council. Later, after it became the UT Austin School of Nursing, she again served as a council member. She was always available. A more articulate, gracious and generous person would be hard to find."
"Luci's support shows her commitment to advancing nursing science and her understanding of the importance of excellence in education," said Alexa Stuifbergen, current dean of the School. "Over the years she established a professorship, a fellowship, the Margaretta Turpin scholarship honoring her husband's mother and last year provided the lead gift for the Billye Brown professorship that will support senior faculty recruitment and retention."
Why nursing? Largely, because she famously once wanted to become a nurse and in 1964 enrolled in the school of nursing at Georgetown University in Washington, D.C. After two semesters, she and her boyfriend became engaged, which created a dilemma for Luci. In the sixties, Georgetown, like many colleges and universities, did not allow students to stay in school if they married. Faced with the choice to stay in college or to get married, she chose the latter.
But Luci never got nursing out of her system. "I never lost my love of nursing, and nursing never left me," she said. "I come from a purpose-driven family in which volunteering and public service weren't optional. Nursing was a fit for me because of that and because I loved science and am naturally a nurturing person. I'm also a 'fixer,' a person who wants to resolve difficulties. Nurses are nurturing and all about optimizing a state of health and diminishing a state of suffering."
Luci is concerned about the looming health care crisis in the United States as the Baby Boomer population ages.
"We're living longer, but is longer going to be better? Are we going to be able to take care of this huge population? We're facing people with catastrophic illnesses with catastrophic costs. How do we promote and prolong a state of wellness, because wellness is cheaper! Not only in dollars and cents but also in terms of human suffering." she said. "Nurses have been in the wellness business since nurses have been. Fortunately, they're no longer a voice in the wilderness, calling for a focus on the promotion of health. Now the health care community, policymakers and others are beginning to listen and come together to reason together and form a team approach that promotes a state of wellness."
Asked about her friendship with Dean Emerita Brown, she said, "Dean Brown has more mentees than there are stars in the heavens, and we all think we're her favorite because she made us feel that way! I was impressed with her servant leadership style. I decided to serve on the advisory council because it's an area where I had some knowledge and a whole lot of desire to learn more and to serve — to make a difference. I like to think I made a difference to the School of Nursing and I know that the school has made a difference to me."
She counts nurses as some of her best friends, with whom she shares the same values, goals, attitudes and expectations.
"We have a bond, a sense of community. That's really all that most of us want out of life. My hope is that the School of Nursing alumni will find, as I have found, that a connection with the School is a continual source of personal and professional enrichment," she said. "I am eternally grateful for what nursing has given me and believe all alumni can be, too. They should be proud of their achievements and that they make a difference every day."
Luci is now married to British banker Ian Turpin, with whom she founded the LBJ Family Wealth Advisors. She is a trustee emerita of Boston University, a lifetime member of Seton Fund and SAFE, an organization offering support for individuals and families affected by domestic violence and assault. She is also an honorary member of Sigma Theta Tau, the international honor society for nursing, and served on the National League of Nursing Accreditation Board, the first non-nurse to do so.
Oh, and she did finally get a university degree: a bachelor's in communication from St. Edward's University in Austin. Recently, she was back on the Georgetown University campus to deliver the commencement address for the School of Nursing and Health Studies. During the service and more than half a century after dropping out of college, Luci was awarded an honorary doctorate in nursing.
"It meant the world to me. I must have looked like a child on Christmas morning because that's the way I felt. It was a thrilling experience."
And it means the world to the UT Austin School of Nursing to be able to call Luci Baines Johnson a true friend and generous supporter.
Donor Spotlight
Jeff Petter­son, 2022  
Luci Baines Johnson and Ian Turpin, 2021  
Jeff and Kim Chapman, 2020  
Maureen and Robert Decherd, 2020  
Luci Baines Johnson and Ian Turpin, 2020  
John Chamberlain, 2019  
Luci Baines Johnson, 2018  
Earl and Myrtle Walker, 2018  
Mary Lou Adams, 2017  
Audrey Decherd, 2016  
John and David Chamberlain, 2014  
Julie Bailey, 2013  
Pat Blandford, 2012  
Mary Virginia Jacobs and Claud Jacobs, 2011
---