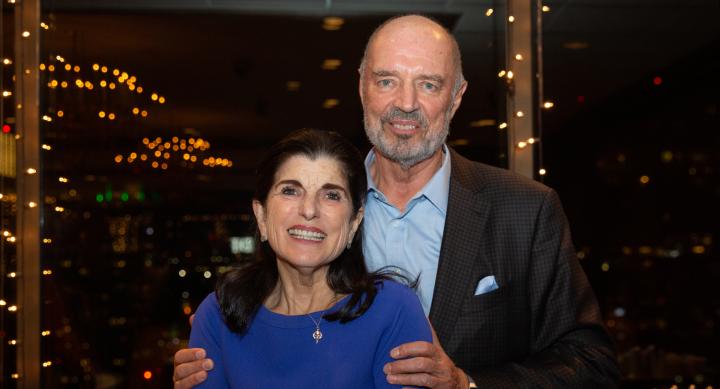 UT Austin School of Nursing Receives Gift from Luci Baines Johnson and Ian Turpin for Gerontology Care, COVID-19 Efforts
The University of Texas at Austin's efforts to educate top nurses and improve care for older adults, especially amid the COVID-19 pandemic, have received a boost from long-time UT supporters Luci Baines Johnson and Ian Turpin. Several aspects of this timely gift, which comes as the country celebrates National Nurses Week, focus on COVID-19.
Johnson and Turpin's $1 million gift will specifically support the nursing field of gerontology and provide funds for:
Aging initiatives that will better the health condition of people ages 65 and older and improve health care-related outreach to
Scholarships for students pursuing a Master of Science in Nursing degree with a focus on gerontology.
Scholarships for students who have been financially affected by COVID-19 to enroll and maintain enrollment in the School of Nursing.
The School of Nursing's clinics, with an emphasis on programs to care for people ages 65 and older affected by COVID-19.
Unexpected needs related to COVID-19, such as instructional support for students and faculty members and hiring additional faculty members.
The gift from Johnson and Turpin has a deep personal connection. They have dedicated it in memory of their mothers — Lady Bird Johnson and Rita Turpin — and in honor of Marion Douglas and Sabrina Mikan, the UT School of Nursing graduates who cared for them.
Johnson and Turpin said they would like to acknowledge the invaluable leadership, generosity and inspiration of School of Nursing supporters and close friends Kim and Jeff Chapman of Dallas, Audrey Decherd of Dallas, and Jeanne and Mickey Klein of Austin.
"It is my husband's and my hope that UT will use our gift to address the needs of the growing, vulnerable geriatric population, especially during this critical time of the COVID-19 pandemic," said Luci Baines Johnson. "And if our gift can help prepare more heroic nurses like Marion and Sabrina, who cared for our elderly mothers, it will be a lifelong dream come true."
The gift comes as the UT School of Nursing seeks to develop initiatives and programs that will help improve coordination of care for older adults. The fastest growing age group in the United States and in Texas is octogenarians.
Through the generations, the Johnson family has supported higher education and has brought prominent programs and resources to UT, including the LBJ School of Public Affairs and the Lady Bird Johnson Wildflower Center. Though it may not be as widely known, Luci Baines Johnson has been a champion of nursing for decades. She has served on the UT School of Nursing Advisory Council, and she and her husband have established a nursing professorship, a nursing faculty fellowship and a nursing undergraduate student scholarship.
"This generous gift from Luci Baines Johnson and Ian Turpin enriches their legacy at the UT School of Nursing and provides critical resources to help us address the impact of the COVID-19 pandemic on our students and the vulnerable populations we serve, especially older adults. We are honored by Luci and Ian's friendship and their confidence in Texas Nursing," said School of Nursing Dean Alexa Stuifbergen.
The University of Texas at Austin School of Nursing is the top-ranked school of nursing in Texas. Approximately 800 students are enrolled in educational degree programs including the Bachelor of Science in Nursing (the entry to professional nursing), master's degree in nursing and the Doctor of Nursing Practice and Ph.D.
One of the school's signature programs is the Adult-Gerontological Clinical Nurse Specialist program — a master's degree preparing students for advanced practice caring for the health of older adults in community and clinical settings. The School of Nursing has two faculty members recognized as Distinguished Educators in Gerontological Nursing by the National Hartford Center of Gerontological Nursing Excellence and three fellows in the Gerontological Society of America, and it is home to the Center for Excellence in Aging Services and Long Term Care funded by the Texas Health and Human Services Commission.
Donor Spotlight
Jeff Petter­son, 2022  
Luci Baines Johnson and Ian Turpin, 2021  
Jeff and Kim Chapman, 2020  
Maureen and Robert Decherd, 2020  
Luci Baines Johnson and Ian Turpin, 2020  
John Chamberlain, 2019  
Luci Baines Johnson, 2018  
Earl and Myrtle Walker, 2018  
Mary Lou Adams, 2017  
Audrey Decherd, 2016  
John and David Chamberlain, 2014  
Julie Bailey, 2013  
Pat Blandford, 2012  
Mary Virginia Jacobs and Claud Jacobs, 2011
---