Justice for all — Honoring Dr. Mary Lou Adams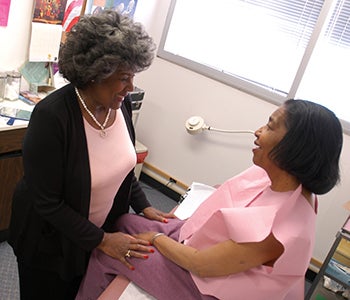 The Mary Louise Adams Endowed Presidential Fellowship in Oncology Nursing and the Endowed Professorship in Oncology Nursing have been established at the UT Austin School of Nursing by the Shivers Cancer Foundation to honor the memory of beloved and accomplished nursing professor and community leader, Mary Louise Adams, PhD, RN, FNP, FAAN.
"When people would ask Mary Lou, 'Who are you?' She would say, 'A nurse,' before saying anything else," Alexa Stuifbergen, dean of the School of Nursing, said. "She was an exceptional nurse and educator and incorporated the latest in nursing science into both making sure that her low-income patients received good care and her students were well-prepared to practice their profession with knowledge, skill and justice."
Her understanding of underserved neighborhoods came naturally. Adams grew up in a low-income household in a low-income neighborhood in the Bronx, N.Y., and knew firsthand how inadequate access to good health care could adversely affect a family and a community. She understood the barriers many people faced and determined she would learn how to articulate their needs.
She first studied nursing in New York. In 1975, she and her husband Ed came to Austin where they raised two daughters and a son. She earned her Bachelor of Science in Nursing in 1978, a Master of Science in Nursing in 1980, and a PhD in Medical Sociology in 1990 at UT Austin. Her research focused on how society views illness and health and how those views are related to exchanges between doctors and patients.
Adams became a veteran nurse practitioner, teaching for 30 years at the School of Nursing where she served in many roles, including associate professor of clinical nursing; director, family nurse practitioner program; and lead faculty, family nurse practitioner tract.
She developed a successful model program to increase mammograms for members of minority communities that has since been extended to 18 communities and two state health departments in the United States. This contribution to reaching underserved women and increasing their access to cancer screenings and health care led to her induction as a Fellow in the American Academy of Nursing in 2011.
"Mom went about being a nurse and instructor in the same manner she went about everything in her life: with love, compassion and understanding," said Michelle Earley, one of her two daughters. "She had a way of making you feel like you were the only person in the room and was always accessible to her students and patients."
In both nursing and teaching, Adams was thoughtful and diligent. She was also compassionate and made sure she knew best practices.
"If she saw someone who was in pain or ill, she assessed the situation and offered whatever help she could to ease the person's pain," said Jennifer Boutte, another of her daughters. "As an instructor, she was approachable but very matter of fact. She expected her students to follow her instructions to the tee. She was a mentor to many of them."
In her practice, Adams' calm, radiant personality carried her through many challenging times when she managed to get women seen by specialists and surgeons in days when most people would have had to wait for weeks.
"Mom sometimes told us about her patients with unusual cases," Jennifer said. "Once she helped a woman who had been through female genital mutilation and had come to her with some of the complications that stemmed from that. Mom had a lot of compassion for her patient and worked to get her the best care she could. She always tried to improve the lives of as many people as possible."
"She lived by the mantra 'To whom much is given, much is expected' because she knew she had so much to be grateful for and so many opportunities to do good work," Michelle said. "She tried to pass the notion of gratefulness and hard work on to her students."
"Mom always demanded the best from her students (and her children), but more than that, she made you believe that you could achieve the excellence she expected and demanded," said her son, Teddy Adams.
"Mary Lou was very knowledgeable about the needs of cancer patients and approached these matters from the standpoint of the person with cancer who needed help, particularly those without insurance," said Clark Heidrick, who served with Adams on the Shivers Cancer Foundation board for more than 25 years. "She would send these patients to a group of physicians who were glad to care for them — or who couldn't find a way to say 'No' to Mary Lou!
"Most importantly, she had standards for good nursing care and for how people should be treated. All her colleagues on the board loved her for that, and thousands of cancer patients in Central Texas benefited from the care and commitment of this extraordinary woman," Heidrick added. "We are proud to support the UT Austin School of Nursing that Dr. Adams loved and served so well and to extend her legacy to the nurses of tomorrow who will benefit from the standards she set and the support that is given in her name."
Adams retired in 2014 and died in October 2016. The professorship will promote the prevention and treatment of cancer among individuals in Central Texas.
Donor Spotlight
Jeff Petter­son, 2022  
Luci Baines Johnson and Ian Turpin, 2021  
Jeff and Kim Chapman, 2020  
Maureen and Robert Decherd, 2020  
Luci Baines Johnson and Ian Turpin, 2020  
John Chamberlain, 2019  
Luci Baines Johnson, 2018  
Earl and Myrtle Walker, 2018  
Mary Lou Adams, 2017  
Audrey Decherd, 2016  
John and David Chamberlain, 2014  
Julie Bailey, 2013  
Pat Blandford, 2012  
Mary Virginia Jacobs and Claud Jacobs, 2011
---