Turtles, Philanthropy, and Nursing: The Walker Family Legacy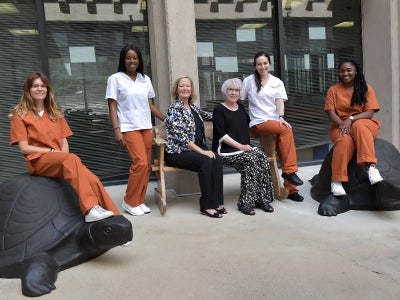 You may have noticed the pair of 600-pound bronze turtles basking in the sun in the School of Nursing courtyard. They're hard to miss! But they are a solid reminder of the generosity of one family, who recognized years ago that with great wealth comes a great opportunity to provide financial support to students in need — student nurses in particular.
Earl and Myrtle Walker founded Carr Lane Manufacturing in 1952 in a simple wooden garage next to their house in Kirkwood, Missouri. The company specializes in making the parts that are then used to make tools. The idea that became the basis for the company came to Earl while he was working as a foreman in the tooling division at McDonnell Douglas Aircraft Company (then Curtis-Wright Aircraft), where he saw an ever-increasing need for standardized parts.
After observing how expensive and inefficient it was to make only one or two parts at a time, he and a few other employees began to manufacture greater quantities by night while working their day job. Earl's wife, Myrtle, who had aspired to become an artist, drew by hand all of the products published in the company's original catalog. It was also Myrtle who initiated a policy of filling up to 95 percent of all orders received by 3 p.m. on the same day. The policy is still in effect today.
In time, the Walkers bought out their partners and moved to larger facilities to supply larger manufacturers such as Boeing and Ford Motor Company. Carr Lane Manufacturing was off and running. So novel and creative were his ideas on standardizing tool making that it's been said that Earl basically created the industry.
As their company grew, the couple began generously donating to their former high school, the Girl Scouts, the Walker Scottish Rite Clinic, the Myrtle E. and Earl E. Walker College of Health Professions at Maryville University, and Washington University in St. Louis., to name only a few recipients.
In the early days of the UT Austin School of Nursing, Dean Emerita Billye Brown invited Earl to serve on the School's Advisory Council.
I was very honored to be friends with Earl and Myrtle Walker. I was delighted when Earl agreed to serve as chairman of the council," Dean Brown said. "The couple made some of the earliest and most generous contributions to the School, and their scholarship fund has been tremendously beneficial to hundreds of our students."
One of the reasons for their generosity to students is because of Myrtle. Although she had received a scholarship to study art, she couldn't afford the $468 room and board and was unable to get her degree. As she often said, "No one should be barred from college because they don't have the money."
Earl Walker died in 2011 and Myrtle Walker in 2016, but the couple's generosity lives on through their eldest child Mary Walker, who was one of the first two students to receive a doctoral degree from the University of Texas System School of Nursing, which eventually became the UT Austin School of Nursing. She endowed scholarships to support students in honor of faculty and colleagues at the UT Austin School of Nursing and provided funds for renovations and improvements to the School of Nursing building. The terrace on the west side of the School of Nursing building is being renovated using a portion of the $3 million given to the School by Mary. Another portion will fund the Myrtle E. and Earl E. Walker Foyer, a project that will soon get underway.
And those charming turtles? Since arriving several months ago, Myrtle's Turtles have become a favorite of students studying or eating lunch in the courtyard. Created by Myrtle as public art, they serve not only as a visual delight, but also a place for lounging, chatting and taking selfies. Soon they'll be migrating to their permanent home on the Walker Terrace.
And as turtles number 49 and 50, they're the last of the breed. Their 48 siblings were installed earlier at various parks and public spaces, mainly in the St. Louis area, but these two seem pleased to have landed at UT Austin. Clearly, they understand they're among people who are changing the world. Just like Myrtle and Earl so many years ago.