From the ICU to the Oil Patch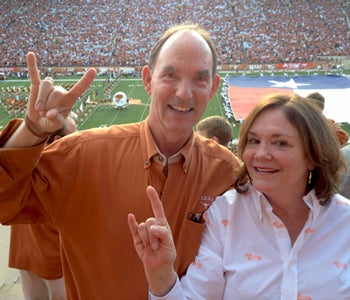 As a child growing up on the Texas Gulf Coast, Pat Blandford always loved science. So, after graduating from high school, she followed her sister's example and went into nursing school. As a nursing student at the University of Texas at Austin, she loved the clinical training, but also the leeway many of her electives gave her, such as field trips to the Legislature and learning about hospital construction.
"For me, an education in nursing went beyond the bedside; it broadened me as a scientific professional," Blandford said. "It allowed me to meld compassion and caring with problem solving."
While pursuing her bachelor in nursing science, she was fortunate enough to be employed during the summer in the intensive care unit at The Methodist Hospital in Houston, Texas. After receiving her degree in 1972, she was able to work in the same unit full time.
"It was an exciting time in medicine. Because Methodist was a teaching and research hospital, I got to work on some of the earliest sleep apnea research studies. Our team even performed a reverse transfusion on a patient who had overdosed on Tylenol — and we saved his life," Blandford said. "I learned the importance of working with a team in a critical environment."
After six years in ICU, Blandford moved into hospital administration at about the time that many hospitals began focusing more on bottom lines than arterial lines. With the advent of managed care, health-care facilities were having to learn to streamline their procedures even as medical staff were making unprecedented breakthroughs in treatment.
Blandford, who had met her husband, Joe, at UT Austin, decided it was time to take the critical thinking skills she had learned as a nurse in a new direction and went to work for her husband's engineering company, which designed and built offshore platforms. In her new job, she handled customer service, administrative issues, employee relations and marketing.
"The scientific methods of nursing are similar to engineering, even though the technology is different," Blandford said. "Making the transition from one to the other was relatively easy."
As the company prospered, the couple began to think about ways they could give back to the community and decided to donate to the UT Austin School of Nursing.
"Typically, nurses don't have a lot of discretionary income, and yet it is very costly to educate and train top-notch nurses," Blandford said. "My nursing education turned out to be so valuable, even when I changed professions. That's because I had learned skill sets you don't often find in other disciplines: technical competence, risk management, team work, problem solving — and compassion."
Blandford is a big believer in skills training and is thrilled about the school's skills and simulation labs.
"You can never start too many IVs," she said, laughing. "So I believe it's important to get these skills down in school so that you can go on and do other things, such as teaching, working with families, or even adding value to other disciplines or professions such as engineering. Once the technical skills are mastered, nursing gives one so many other options, both personally and professionally."
And if you, like Blandford, might one day make a career change, she advises: "Take into consideration the peripheral things nursing gives you as a person and take those with you. Although some people find it difficult to be compassionate and caring in technical environments, it's what we nurses have been taught to do, and to do well."
Donor Spotlight
Jeff Petter­son, 2022  
Luci Baines Johnson and Ian Turpin, 2021  
Jeff and Kim Chapman, 2020  
Maureen and Robert Decherd, 2020  
Luci Baines Johnson and Ian Turpin, 2020  
John Chamberlain, 2019  
Luci Baines Johnson, 2018  
Earl and Myrtle Walker, 2018  
Mary Lou Adams, 2017  
Audrey Decherd, 2016  
John and David Chamberlain, 2014  
Julie Bailey, 2013  
Pat Blandford, 2012  
Mary Virginia Jacobs and Claud Jacobs, 2011
---