Alumna's Gift in Honor of Her Mother Will Advance Nursing Education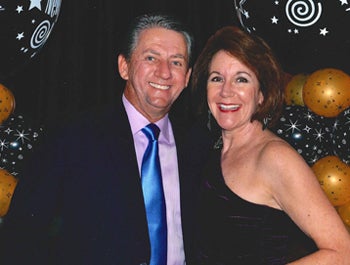 Julie Hagan Bailey's education and career path display a keen intelligence, indefatigable energy and a great deal of curiosity. Her parents were "big on education," which may explain why she, her three siblings and her children all have advanced degrees.
Since she was good at math and science, Bailey initially pursued a chemical engineering degree, then considered switching to architecture and wound up in nursing. After obtaining a Bachelor of Science in Nursing in 1975, she worked in the coronary unit in Austin's Seton Hospital before moving to Dallas, where she worked in many local hospitals while pursuing her master's from Texas Women's University.
"Anywhere they needed a nurse, I was there," Bailey said. "I continued working full-time, too, when I went back to college to get a master's in business."
Armed with an MBA, Bailey went to work for Southwestern Bell Telephone Company, where she climbed telephone poles ("In the interview, they asked if I could climb a pole, and I said "yes!'"), ran a crew of men and became a safety coordinator before going to work as a manager at AT&T.
After losing her husband to cancer, she returned to nursing. Eventually she remarried and began working for her new husband's lighting company. Soon after taking over the U.S. government part of the business, she was so successful that the Defense Logistics Agency (the purchasing arm of the Department of Defense) gave her their "Women-Owned Small Business of the Year" award in 2011.
But after all her success, one thing still nags at Bailey: Even though her parents encouraged her academic pursuits, Bailey's mother never had the opportunity to attend university, receiving instead a nursing diploma before being shipped overseas during World War II.
"My mother was a brilliant woman and always wanted a degree, but after the war, she married and had four children instead," Bailey said. "She struggled her entire life to get a degree that was unobtainable, even with over 150 college credits. I don't want that for others."
To honor her mother's memory and her love of education, Bailey has established a scholarship at the School of Nursing.
"It's really important to me," she said. "I'd love it if the scholarship could help a veteran or a mother or someone with an associate degree in nursing. Regardless, I want to make it possible for someone who is struggling financially to get a BSN."
Bailey's decision to fund the scholarship also reflects an appreciation for what the School of Nursing gave to her. "I received a fabulous education there," she said. "A nursing education develops precision and accuracy, but it also brings out the nurturing side of a person."
Although no longer in the field, Bailey keeps abreast of health care's changing needs, citing the Institute of Medicine's recent report on the future of nursing: "I know there is a push to have 80 percent of hospital nurses be baccalaureate-prepared by 2020. And because health care is growing more complex, we need to ensure that nursing students continue to be trained in the critical thinking skills necessary to meet that challenge."
Donor Spotlight
Jeff Petter­son, 2022  
Luci Baines Johnson and Ian Turpin, 2021  
Jeff and Kim Chapman, 2020  
Maureen and Robert Decherd, 2020  
Luci Baines Johnson and Ian Turpin, 2020  
John Chamberlain, 2019  
Luci Baines Johnson, 2018  
Earl and Myrtle Walker, 2018  
Mary Lou Adams, 2017  
Audrey Decherd, 2016  
John and David Chamberlain, 2014  
Julie Bailey, 2013  
Pat Blandford, 2012  
Mary Virginia Jacobs and Claud Jacobs, 2011
---