Supporting Health Care's Heavy Lifters: Donor's gifts will ensure nursing education continues to flourish
In 2013, John Chamberlain, a retired Houston lawyer, together with his brother David and their aunt established the Barbara Hall Chamberlain Endowed Graduate Fellowship at The University of Texas at Austin School of Nursing with an endowment of $60,000 to honor their deceased mother.
In his newly created legacy, John has named the School of Nursing as a beneficiary of his estate, which has ultimately created the largest planned gift in the history of the school. A portion of this remarkable gift will be used to transform the impact of the Fellowship, with the remaining portion to be used at the discretion of the dean, for the benefit of the school. 
John graduated from Texas A&M and, after service in the U.S. Army, enrolled in and graduated from UT Austin Law School and worked as a tax attorney for various oil and gas companies in Houston.
John learned the value of charitable giving from his parents, Barbara and Nugent, who regularly donated to various charitable organizations throughout their lives. While he has continued this practice, John's decision to generously support the School of Nursing began with mother's decision to become a nurse following graduation from high school.  In September 1941, she received her nursing diploma from Allentown Hospital in Pennsylvania. In June 1942, Barbara enlisted in the U.S. Army Nurse Corps.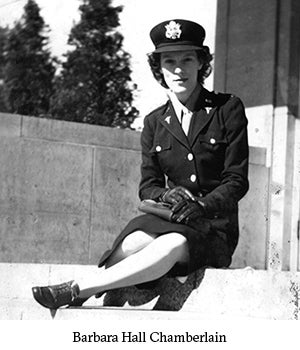 During her military service, Barbara worked as an operating room and general duty nurse. She also met and married John's father, Nugent who served in the Chemical Warfare Unit of the U.S. Army. After the war, the couple settled in Baytown, Texas where Nugent had been employed before the war by the Humble Oil and Refining Company. Nugent returned to his job as a research chemist at the Baytown refinery, but Barbara chose not to return to nursing although she retained her license and frequently volunteered at the local hospital.
Following their mother's death, John and David sought to honor her life and nursing career by endowing a scholarship to support nursing education and ultimately chose UT's School of Nursing to establish the Barbara Hall Chamberlain Endowed Graduate Fellowship. Since 2014, the Fellowship has supported 12 students.  
In the years following the endowment of the Fellowship, John came to the realization that nurses could and should play a vital and expanding role in our country's evolving health care system. 
"Even though nursing has changed a lot since my mother practiced, nurses are still the heavy lifters in the healthcare system," John said. "I now believe it's important to help nursing students and the UT Austin School of Nursing in particular to have the ability to not only stay current with changing health care demands but become leaders of that change. Nursing needs to continue to grow, and I want to contribute in a significant way to ensure that happens."
"We are so grateful for friends such as John Chamberlain who understand the importance of guaranteeing that students receive the support and education they need to improve health care and health care access," said Alexa Stuifbergen, dean of the UT Austin School of Nursing. "Everyone will need a nurse one day, and now thanks to John, our students and graduates will be there and will be the best."
Donor Spotlight
Jeff Petter­son, 2022  
Luci Baines Johnson and Ian Turpin, 2021  
Jeff and Kim Chapman, 2020  
Maureen and Robert Decherd, 2020  
Luci Baines Johnson and Ian Turpin, 2020  
John Chamberlain, 2019  
Luci Baines Johnson, 2018  
Earl and Myrtle Walker, 2018  
Mary Lou Adams, 2017  
Audrey Decherd, 2016  
John and David Chamberlain, 2014  
Julie Bailey, 2013  
Pat Blandford, 2012  
Mary Virginia Jacobs and Claud Jacobs, 2011
---