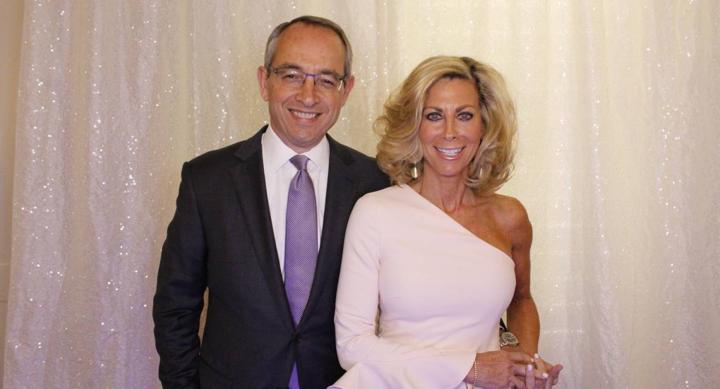 Building a Firm Foundation for Nursing Education
At an early point in her education at the School of Nursing, Kim Chapman discovered exactly what area of practice she wanted to pursue. Drawn to working in the operating room and after receiving a Bachelor of Science in Nursing in 1985, she moved to Houston, where she specialized in working in cardiovascular surgery and served on the heart team for the legendary cardiac surgeon Dr. Denton Cooley.
"I was always interested in the technical aspects of the job and knew I wanted to be an OR nurse," she said. "I credit the UT School of Nursing for my 30-year rewarding career and consider myself first and foremost a Longhorn Nurse.
Kim moved to Des Moines, Iowa, where she earned a Master of Science in Nursing from Drake University in 1999 and became a family nurse practitioner. Over the years, she enjoyed multiple leadership roles on cardiovascular surgery teams, including six years with the Vein Center at Iowa Heart.
"I was the team's only mid-level provider and was afforded a lot of autonomy, including surgical procedures," she said. "I felt very valued due to my education and experience."
Kim later met her husband, Jeff Chapman, through a mutual acquaintance who, knowing the two had both lost spouses to cancer, thought they could lend support to each other as they worked through the grieving process. Kim relocated to Dallas to be with Jeff but wasn't able to find a job affording her the same independence and highly specialized work she had performed in Iowa. The couple searched for opportunities where she could redirect her passion to support her community.
"After Kim and I were married, we were trying to figure out how we could support institutions that matter to Kim, and it became clear that the UT Austin School of Nursing was near and dear to her heart," Jeff said. "The graduates of the school serve their community and are the day-to-day health care heroes that we so desperately need today."
Kim wanted to help future students obtain the same foundation for success through the type of high-quality education she had experienced.
"I had such a great experience at the nursing school, and it led me to a fulfilling career," she said. "From my first job, I noticed that my training and education were more robust and had better prepared me for success."
The Chapmans began to broaden their relationship with the School of Nursing's leadership team and focus on how they could support nursing education. One of their first steps was to create the Kimberly and Jeffrey Chapman Endowed Presidential Fellowship, a permanent endowment that funds fellowships for graduate students. As their subsequent gift to the School, and along with other donors in honor of the School of Nursing's first dean, they provided support for the Billye J. Brown Professorship in Nursing Leadership to help recruit and retain senior faculty.
Because of their strong passion for fundraising, Kim and Jeff became members of the Nursing Campaign Committee, and in 2019, Kim became chair of the School of Nursing Advisory Council. As chair, Kim works closely with Dean Stuifbergen to orchestrate various outreach, advocacy, and fundraising initiatives on behalf of students, faculty, and programs. Kim is also the chair of the Nursing Campaign Committee.
In March 2020, Kim and Jeff furthered their legacy by establishing one of the largest estate gifts in the School of Nursing's history. The funding will ensure that educational programs and student support continue well into the future. The couple are especially excited about Texas Challenge, a program focused on high-potential Texas students from middle- and low-income families. Another area where the Chapmans want to provide support is the School of Nursing's Family Wellness Center, the cornerstone of the School's service mission.
Jeff, who is chair of the global mergers and acquisitions practice of the international law firm Gibson Dunn, recently received the 2020 Distinguished Alumni Achievement Award from the University of Iowa. He is also a Harvard Law School alumnus.
"Kim and Jeff Chapman have become an invaluable resource to the School of Nursing," Dean Stuifbergen said. "Their generosity has led to developments in our community clinics as well as important support for our students and faculty. But I am most impressed with the dynamic leadership roles the Chapmans have taken with the school. Their leadership serves as an example to so many others in our education community."
Donor Spotlight
Jeff Petter­son, 2022  
Luci Baines Johnson and Ian Turpin, 2021  
Jeff and Kim Chapman, 2020  
Maureen and Robert Decherd, 2020  
Luci Baines Johnson and Ian Turpin, 2020  
John Chamberlain, 2019  
Luci Baines Johnson, 2018  
Earl and Myrtle Walker, 2018  
Mary Lou Adams, 2017  
Audrey Decherd, 2016  
John and David Chamberlain, 2014  
Julie Bailey, 2013  
Pat Blandford, 2012  
Mary Virginia Jacobs and Claud Jacobs, 2011
---