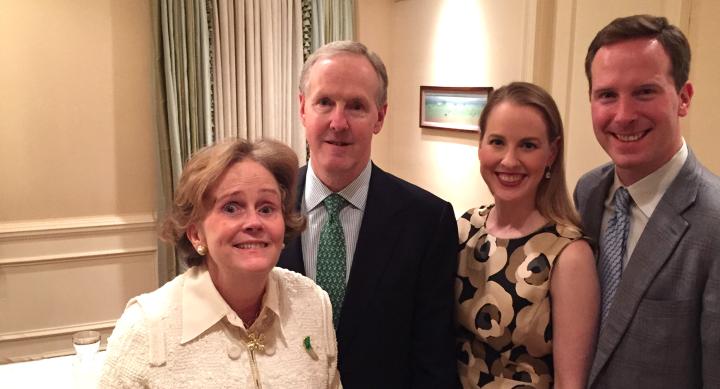 A Change of Direction — How spending time in the ICU led to a career in health care
Audrey Decherd (MSN '12) never expected to spend three months in a hospital intensive care unit, sitting by her mother's bedside as she clung to life after a tragic accident. But as she did, the experience transformed her — and her future.
"I have always had a fascination with medicine but never considered it as a possible career until I was a junior in college," Audrey said. "That fall, my mother was struck by a car while walking through our neighborhood on a Saturday morning. She suffered a traumatic brain injury and was in intensive care for almost three months. It would be another five months before she finally came home."
Those first few weeks in the ICU, however, were life changing.
"I realized that despite the fact that I was living a nightmare, somehow I was completely lit up by the intensive care environment," Audrey said. "Everything the nurses and doctors said I soaked up like a sponge and wanted to know more. Something ignited inside me, and I knew that this is where I belonged."
The Dallas native decided to finish her undergraduate degree in Spanish linguistics at Vanderbilt in Nashville, Tennessee, and then return to university for an advanced nursing degree. She chose the UT Austin School of Nursing's alternate entry master of science in nursing (AE-MSN) program because it offers individuals with degrees in disciplines other than nursing the opportunity to obtain both a registered nurse license and a master's in nursing degree.
"The fall of my senior year I started my prerequisites for the AE-MSN program because I knew I wanted to go to the UT Austin School of Nursing. It not only has an exceptional nursing program, but it also accommodated my circumstances," Audrey said. "Last, but most certainly not least, I would finally be a degree-holding Longhorn!"
After graduating from UT Austin in 2012, she worked as a staff nurse at Baylor University Medical Center in Dallas. Today she is a nurse in the neurology ICU, where she provides bedside care for patients with conditions such as ischemic or hemorrhagic stroke, craniotomies and encephalopathy.
Caring for others is important to the entire Decherd family, and her parents Maureen (English '73) and Robert Decherd are deeply committed to supporting education. In 1993, they created the Decherd Foundation to support secondary and higher education as well as improving parks and urban centers in Dallas. Their gifts to the School of Nursing have gone to facilities upgrades, including supporting the recent space-planning process and the renovation of a large, theater-style classroom. Indeed, her parents' example of generosity is a large part of the reason Audrey wanted to give back to the School of Nursing.
"Through the years, my parents have been role models for me in many ways," she said. "I can say for sure that their philanthropic efforts have been a great source of inspiration to me."
As a nurse, Audrey believes that the foundation's donations to the School of Nursing will provide not only an excellent nursing education, but also be the means by which students are prepared for the clinical environment from the first moment they walk in. Citing the school's dedication to interprofessional education, in which students of nursing, social work, pharmacy and medicine are taught to work together as members of a team, she is confident that by the time they are employed, these students will understand the importance of collaboration, whether in acute, long-term or community care.
After going through the long and difficult time of her mother's recovery, Audrey came to appreciate the role nurses play in providing safe and effective patient care. After attending the UT Austin School of Nursing, she came to understand the value of an excellent nursing education.
"Nursing is such a critical job in the world we live in, and we can't afford not to support nursing education," she said. "It's the foundation and basis upon which nurses grow into experts in their field. It's one thing to teach nursing students enough in order to pass their board examinations, but a really exceptional nursing institution prepares its students for a virtually seamless transition from the student role to the provider role."
Donor Spotlight
Jeff Petter­son, 2022  
Luci Baines Johnson and Ian Turpin, 2021  
Jeff and Kim Chapman, 2020  
Maureen and Robert Decherd, 2020  
Luci Baines Johnson and Ian Turpin, 2020  
John Chamberlain, 2019  
Luci Baines Johnson, 2018  
Earl and Myrtle Walker, 2018  
Mary Lou Adams, 2017  
Audrey Decherd, 2016  
John and David Chamberlain, 2014  
Julie Bailey, 2013  
Pat Blandford, 2012  
Mary Virginia Jacobs and Claud Jacobs, 2011
---